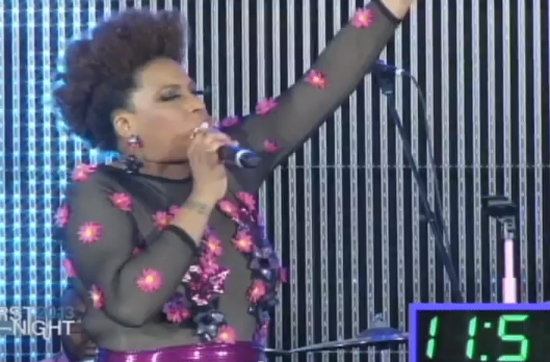 Live television is not for the faint of heart. Anything can and will happen.
Live television is also not for the dysfunctional, drunk, high, and washed up talent of the world. That's just a recipe for epic embarrassment.
The fine folks over at KDOC, an independent television station based in Orange County, Calif., decided to try their hand at broadcasting a live New Year's bash. Unfortunately, they had to scrape the bottom of the barrel, as far as talent goes.
They booked Macy Gray, who hasn't had a hit since…well, since she picked up that joint she found in between her sofa cushions last week. But what we really mean is, she hasn't seen Billboard hit since 1999 when she was very briefly considered a relevant musician.
Looking like a bag lady gone sexy, Macy was tasked with ringing in the New Year but she slurred her speech, hollered about the time and croaked her way through her 1999 single "Try." All this while wearing an unfortunate sheer top that let us see all of her love handles and old lady titties. That's no way to ring in the new year, y'all.
Macy's catastrophe was just the tip of the iceberg though. The production was laced with missed cues, curse words broadcast on live TV and even a fight between one of the hosts and an onstage guest. Oh, and Bone Thugs 'n' Harmony showed up to run through some of their catalogue from the 1990s.
Watch a compilation clip of the televised calamity for yourself below.
Be the first to receive breaking news alerts and more stories like this by subscribing to our mailing list.