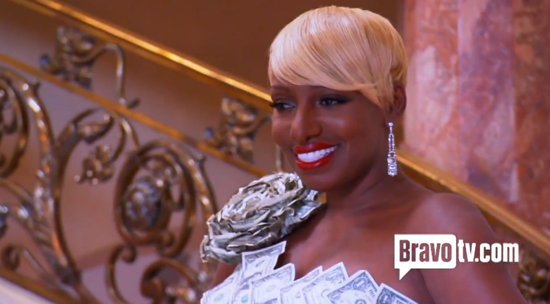 After spending three episodes in the sunny Caribbean scenery of Anguilla, the cast of the "Real Housewives of Atlanta" headed back home to the ATL to resume normal life as they know it.
For NeNe, that meant a return to the fabulous jet setting lifestyle she's been living ever since she got a boost from her stint on Donald Trump's "Celebrity Apprentice."
In fact, we had the opportunity to tag along as NeNe did the photo shoot for her iconic Ebony magazine cover. You know, the one where she's bathing in diamonds. Yeah, that one.
The tub of diamonds wasn't the only outrageous look for the set. She also had a dress made of dollar bills. Now that's how a rich bitch really dresses.
NeNe be killin' 'em.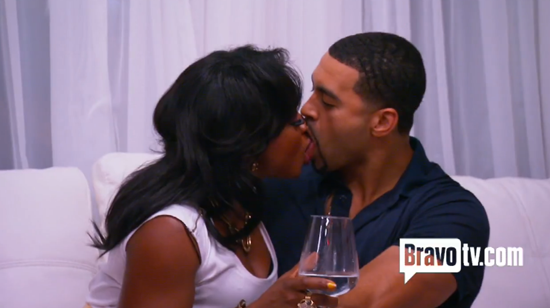 Are Phaedra and Apollo Having Trouble in Paradise?
Man, Bravo be hypin' shit for no reason. The previews for this episode would've led you to believe that Phaedra and Apollo were headed for the doghouse.
We see Cynthia and Peter read a blog (shout out to FreddyO!) and remark in shock at the site's report that Apollo and Phaedra are headed for divorce.
Well, we know that's false now because Phaedra and Apollo just announced that baby #2 is on the way. It's funny how taping these things so far ahead of time is spoiled now that we can keep up with these reality stars in real time.
The way Bravo cut up Apollo's sound bytes, you'd think they agreed with the tabloid reports. But Apollo and Phaedra actually went OUT of their way to dismiss them and tongued each other down with their horse tongues at the club to prove to everyone how on their relationship was.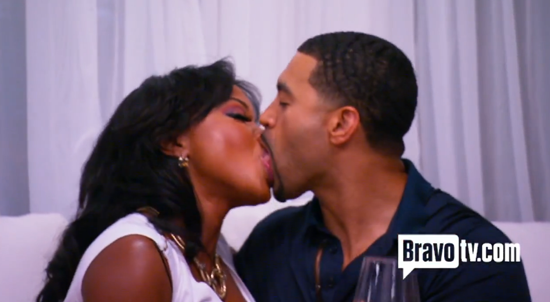 Congrats to the happy couple and all, but that shit was nasty.
Speaking of nasty: WOW at that strip club that Peter and Cynthia met Phaedra and Apollo at.
The set up for the rumored "trouble" in Phaedra and Apollo's relationship came from Apollo's penchant for strip clubs. So Cynthia decides to be cute and books a dinner date with Phaedra and Apollo at the nastiest, dirtiest, trashiest strip club she could find in Atlanta.
Her dumbass can feign innocence all she wants, but there's no way homegirl hasn't heard of Magic City. She DATED Russell Simmons for God's sake. Is she really gonna sit up here and pretend like she doesn't know where a good strip club in Atlanta is?
Instead, we were subjected to middle-aged women with flapjack pancakes, Tasmanian devil shapes and cottage cheese asses.
You know Cynthia had to look long and hard to find these Grandmas Gone Wild. That's a fetish and specialty strip club. You don't just stumble upon that kind of shit. Bravo knows what they're doing.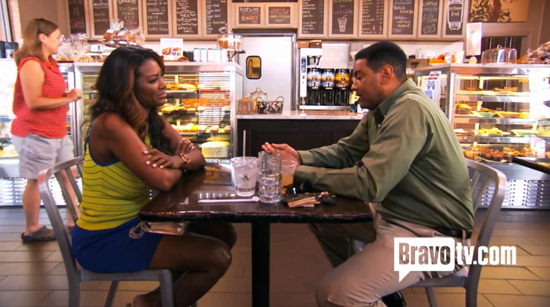 Walter and Kenya Are Still One Big Ol' Mixed Up Bag of Nothing
Kenya is really dragging out the inevitable with this whole Walter thing. First, homegirl meets up with Walter at some pastry shop to talk about the things that went down in Anguilla. She confesses to him that she was sensitive to his aggressive tone and that's why she walked out.
He, on the other hand, told her he LOVED HER with all the believability of Anna Nicole (may she rest in peace) telling her 90-year-old husband that she was dedicated to him.
Walter is definitely on this show for other motives ($$$) and they really have nothing to do with Kenya and their relationship.
Kandi, in fact, told the other girls that she heard that Kenya and Walter didn't even sleep in the same bed while they were Anguilla. So it's safe to say that Walter and Kenya's sexual chemistry is colder and deader than Bill and Hillary Clinton's.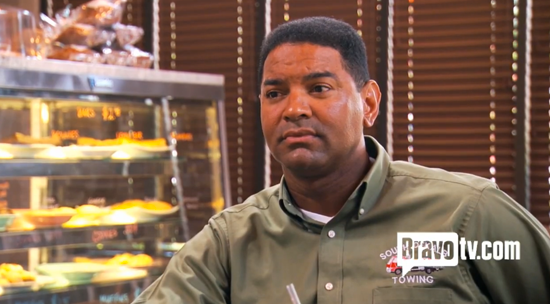 But the zinger and punch in the face came through when Walter said, "I love you but do I love you enough to marry you right now? No."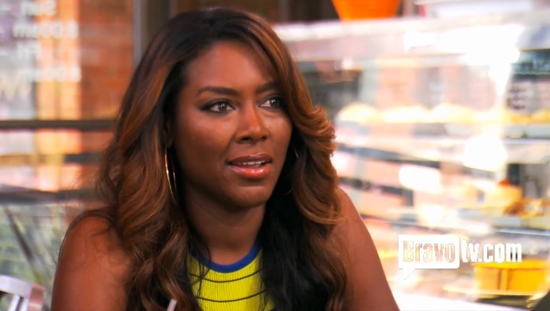 Kenya's face crumbled like her name was Chips Ahoy. The shit was kind of sad and you might've felt bad for her if she didn't bring all of this on herself.
But wait, that's not all!
Instead of dissing Walter for good after he pretty much told her that he was nowhere near close to marrying her, Walter and Kenya agree to show up at a function with all of the other cast mates later in the episode.
Walter strolls on in to the party and glides right on by Ms. Kenya. He heads straight to the husbands and starts taking shots.
Once he finally does mozy on over, everyone realizes that he's actually been there for some time and didn't make a beeline to Kenya's table.
We'd be tempted to call this the third strike for Walter Jackson, but frankly, we lost count.
If Tyler Perry decides to take on "He's Not That Into You" as a film project, Kenya Moore is definitely his lead girl.
Be the first to receive breaking news alerts and more stories like this by subscribing to our mailing list.