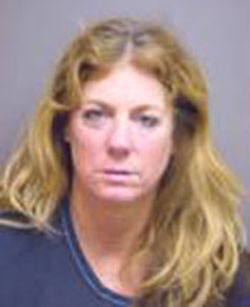 Police responding to a report of a disturbance at a home in Florida witnessed a woman beating the hell out of her boyfriend for allegedly being a selfish lover.
According to a sheriff's report, obtained by The Smoking Gun, 50-year-old Jennie Scott assaulted her 32-year-old boyfriend Jilberto Deleon at his home Thursday (Dec 27) following a late-night "mutual oral sex session" that ended prematurely.
A witness reportedly overheard the couple arguing, and saw Scott jump on top of Deleon and proceed to punch and scratch him.
The witness says Scott also hit Deleon with a stick, and threatened to hit him with a wrench, which the witness had to wrestle out of her hands.
Scott explained to police that she and Deleon, her "on-and-off" boyfriend of the past 5 years, "were giving each other oral pleasure in the bedroom" when Deleon "finished first and stopped pleasuring her." Scott said she "became upset and they began arguing."
Scott also told a deputy that Deleon had pissed her off earlier that day when she overheard him "having sex with another woman over the phone."
Scott, who deputies described as "extremely intoxicated," also reportedly gave police a struggle as they placed her in the back of a squad car, where cops say she kicked a window until being warned that she would be maced unless she stopped.
The woman was arrested and charged with misdemeanor battery.
If this sounds oddly familiar, it's because something similar happened about a month ago when ANOTHER Manatee, Florida woman, named Raquel Gonzales, was arrested and charged with felony domestic battery after she admitted she "lost it" and beat the crap out of her boyfriend for climaxing before her during sex.
A word of advice to the men of Manatee Florida: Thou shalt not start, what thou cannot finish. Or thou will get thine ass kicked-eth.
Be the first to receive breaking news alerts and more stories like this by subscribing to our mailing list.