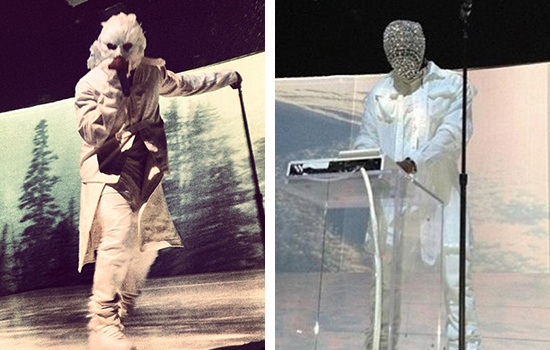 Kanye West is known for his overly eccentric fashion choices, so it's not at all surprising that he decided to push the fashion envelope even further by rocking a pair of strange masks at a recent concert.
Performing the first of three sold-out shows at the Ovation Hall inside the multi-billion dollar Revel Resort in Atlantic City, New Jersey, the rapper — dressed in all white — rocked a huge feathered mask that made him look like a yeti (or, a "Kanyeti!" lol) as he commanded the stage with his catalog of hit records, old and new.
There was a huge blizzard going on behind him up on the stage though, so the Kanyeti mask was appropriate. It looked pretty dangerous up there. His face needed protection.
Later on in the show, Kanye turned his fashion game up a couple more notches when he stepped out on stage with a Maison Martin Margiela crystal couture mask and performed a rendition of Rihanna's "Diamonds," mixing it in with his own "Diamonds from Sierra Leone."
Kanye's girlfriend Kim Kardashian and MMG rapper Meek Mill were reportedly watching from the crowd while Kanye put on one hell of a show.
Ye's performances, costumes and stage sets may be extravagant and over-the-top … but he definitely makes up for it by giving fans much more than their money's worth, and you can't even be mad at that.
I mean seriously … look at that friggin' stage!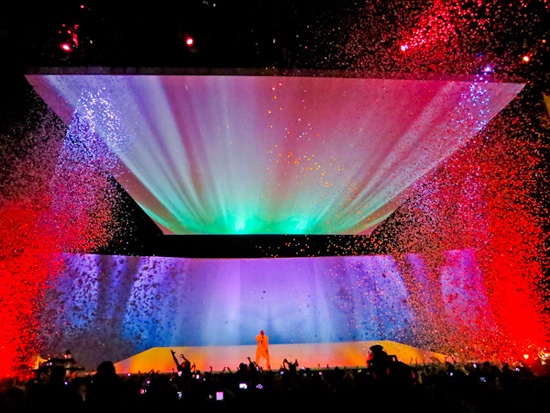 More pics and video footage are below:
"Cold" (Intro)
"Clique"
"Mercy"
"Don't Like"
"Power"
"Jesus Walks"
"Say You Will" & "Heartless" (Kanyeti Mask)
"Touch the Sky" (Birds Intro)
"Stronger"
"Homecoming"
"Diamonds Remix" (crystal mask)
"Runaway"
"Gold Digger"
"Birthday Song"
"All Falls Down"
Be the first to receive breaking news alerts and more stories like this by subscribing to our mailing list.