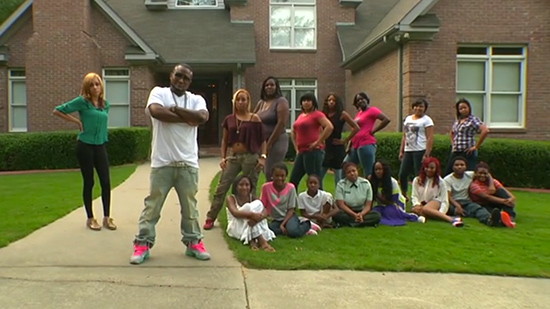 Atlanta rapper Shawty Lo has been busy working on his sophomore album … and apparently, he's also spent the past two decades of his life GETTING BUSY. Because dude has ELEVEN (yes, you read that right) children with TEN different women!
And guess what? Oxygen has announced a new reality show called "All My Babies' Mamas" — in which Shawty Lo (real name: Carlos Walker) will offer viewers an inside look into his hectic life as a professional rap artist, and a professional baby daddy.
Though Oxygen's press release officially announcing the show never explicitly mentions Lo, Talking with Tami did some digging, and found out that the D4L Records head honcho is the star of the show, which the network describes as a "bold new series" revealing the "complicated lives of one man, his children's mamas and their army of children."
Cori Abraham, Senior Vice President of Development for Oxygen Media said in a statement, "Oxygen will give fans an intimate look at unconventional families with larger than life personalities and real emotional stakes. 'All My Babies' Mamas' will be filled with outrageous and authentic over-the-top moments that our young, diverse female audience can tweet and gossip about."
The show will feature at least seven (of the ten) baby mamas, including E'creia ("The First Lady") who handles his finances and was once engaged to Lo, Angela aka "Chocolate" (the "Fighter Baby Mama"), Amanda ("The Jealous Baby Mama "), Sujuan ("Wanna Be-Bougie Baby Mama"), Tamara ("No Drama Baby Mama"), Serena ("The Shady Baby Mama") and Leiana aka "Pepples" ("The Baby Mama From Hell"), plus Shawty's 19-year-old girlfriend Ashlin ("The Future Baby Mama") who
According to Mr. Carlos Walker's Wikipedia page, he fathered his first child at the tender age of 15 years old, and he now, at 36, has a total of eleven children (nine daughters and two sons, to be exact).
His second album (he released his first — "Units in the City" — in 2008) is due sometime in 2013, and "All My Babies' Mamas" is set to premiere in the Spring.
This is the part where we all collectively bow our heads for a moment of silence. If you thought "Basketball Wives" and "Love and Hip Hop" were ratchet TV … wait until you get a load of "All My Babies' Mamas!"
Check out the 13-minute trailer for the show below to get a sample of the ratchetness set to invade your TVs next Spring:
Be the first to receive breaking news alerts and more stories like this by subscribing to our mailing list.