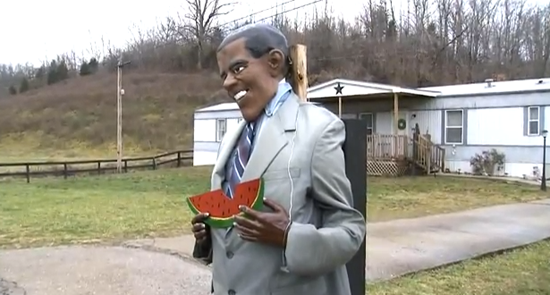 When asked by a reporter why he created a dummy of President Barack Obama holding a watermelon in his hand, Kentucky man Danny Hafley said, "I thought he might get hungry standing down here."
Well, how considerate of him. Nothing racist here. He's just a nice guy, offering to feed a dummy with the sweetest, delicious fruit he can find.
Of course that's about as believable as Lindsay Lohan saying she was hospitalized not for drug abuse but for "exhaustion," but hey, why let something like the truth get in the way of a good time, right?
While many might be quick to paint all of Kentucky with a racist, hick brush, it's worth pointing out that one of Hafley's neighbors gets it.
She believes the sign is in poor taste and that many blacks could potentially find it racist. Score one for this neighbor lady's common sense.
Watch the video of Hafley defending his watermelon-eating Obama dummy below.
Post-racial America, indeed.
Be the first to receive breaking news alerts and more stories like this by subscribing to our mailing list.