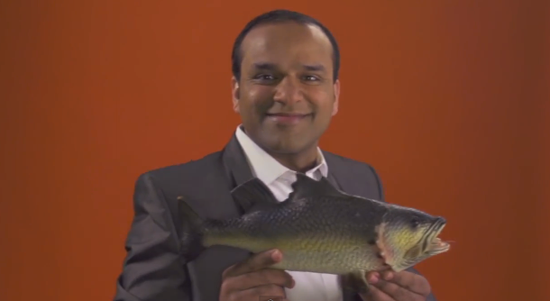 The Internet has a habit of turning average people into mega stars over night. We did it with Susan Boyle, then PSY and his "Gangnam Style" went viral, and now it's Muhammad Shahid Nazir's turn.
The Pakistani immigrant gained fame for his unique way of selling fish in an open-street market in London.
Instead of just hollering and heckling passers-by, Nazir decided to woo his customers with a friendly little tune:
"Come on ladies, Come on ladies, one pound fish! Have-a, have-a, look, one pound fish!"
In this case, the pound is referring to the British currency and not the weight of the fish.
Watch the original video below, filmed by an admiring fan, which helped Nazir gain fame on the Internet.
From there, things took off. Celebrities in the UK took a liking to the One Pound Fish Man's little ditty and before you know it, a record label approached him and turned the street jingle into a hit single.
So yeah. There's officially a new immigrant willing to shuck and jive to a catchy beat for first-world people's entertainment. Your move, PSY.
[Gizmodo]
Be the first to receive breaking news alerts and more stories like this by subscribing to our mailing list.