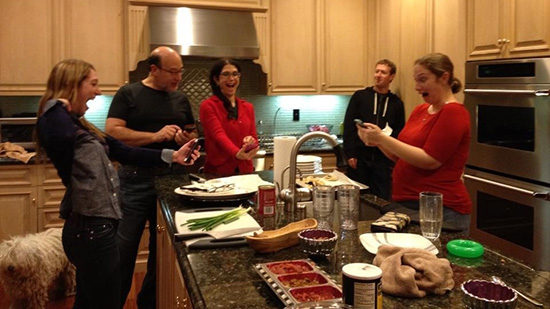 Well isn't this a big ol' hefty bag of irony. Randi Zuckerberg — sister of Internet king Mark Zuckerberg, creator of Facebook — is not happy about a recent privacy breach on the immensely popular social networking site.
Randi used to be the former head of marketing for Facebook, and is now the executive producer of a new Bravo reality show called "Silicon Valley" about start up companies in the world's biggest tech hub. So you'd think she, of all people, would know exactly how Facebook's privacy settings work, right?
Wrong.
Here's how it all went down, according to BuzzFeed: Randi posted the above photo to her private Facebook page, showing her family's reaction to the site's newly released "Poke" app.
Callie Schweitzer (an employee of Vox Media) simply tweeted the photo, thinking that it was a public post, but unfortunately for her, Randi didn't like the fact that a photo from her personal Facebook page ended up all over the Internet.
"Not sure where you got this photo," Zuckerberg tweeted at Schweitzer. "I posted it only to friends on FB. You reposting it on Twitter is way uncool."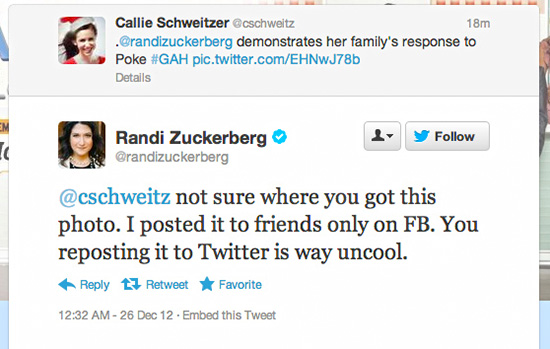 Schweitzer eventually deleted the tweet with the photo, and apologized, explaining that she was a subscriber to Randi's feed and that's probably how she was able to see it.

But Randi was still pretty pissed about her so-called "privacy" on Facebook being violated, and later found out that Schweitzer was friends with her sister (who also appears in the photo), and that's how the photo appeared in her news feed.

"Digital etiquette: always ask permission before posting a friend's photo publicly. It's not about privacy settings, it's about human decency," Zuckerberg tweeted.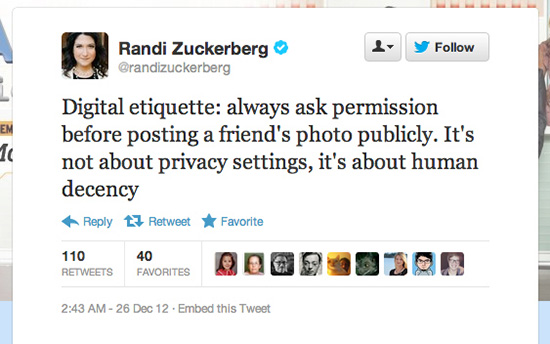 Too bad what happened has nothing to do with "digital etiquette," as Randi suggested, and plenty to do with Facebook's dubious privacy settings, which, oddly enough, were recently updated to actually make the system LESS confusing for users.
But what Ms. Zuckerberg needs to realize is that no matter how "private" a photo published to Facebook is … that doesn't mean that her friends and/or family members will be blocked from saving that photo and publishing it elsewhere.
No amount of privacy settings can prevent that.
Be the first to receive breaking news alerts and more stories like this by subscribing to our mailing list.