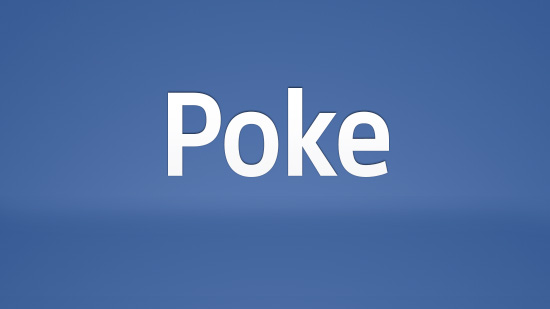 "Poke" — Facebook's most pointless feature — now has an official app of its own, but with much more significance than how it originally functioned.
In the old days of poking, you would click the "poke" button to simply attract the attention of another user (similar to "nudging" in an instant message or chat board).
But now, poking has totally changed … and for the better, depending on how you look at it.
Facebook has turned poking into an app, and it has nothing at all to do with the original poke feature found on users' profile pages (behind their settings menu).
Here's how it works: Let's say you have a sudden urge to send one of your Facebook friends a photo of a, er, cucumber. But you don't want to just send them a cucumber pic that they could post and re-share to the world.

Poke lets you send the pic, but the recipient will only have 1, 3, 5 or 10 seconds to view your majestic vegetable. And they need to press and hold the screen while viewing, or the pic goes away.

You can send photos, videos or text messages via Poke, although you can't use it for anything too elaborate since the message content lasts 10 seconds maximum. After that, boom.

The message, whatever it was, is gone forever. There isn't even a record on the sender's phone (although a log of who you've poked and who's poked you still remains).

Poke is pretty unforgiving. The recipient must press and hold the notification to see the content. Once you touch, the countdown starts, and there's no going back — even if you let go.

Videos just stop, with no chance of re-watching. You slip, and you're done.
You and the person you are poking both need the app or else the recipient won't be able to see the Poke, which only works on mobile devices at the moment.
When your friends look at your profile online, there's no trace of poking, however, on smartphones, a note will appear encouraging users to download the Poke app.
Now … what if someone were to take a screenshot of your Poke, in turn, making it something more permanent?
Unfortunately, here isn't a thing you can do about that, however, if someone were to do that, the app would inform you with a "flash" icon beside their name in your Poke feed.
So if your Poke ends up all over the Internet the next day, you'll know who did it.
Sidebar: This does not sound like that neat new Snapchat app at all.
[Mashable]
Be the first to receive breaking news alerts and more stories like this by subscribing to our mailing list.