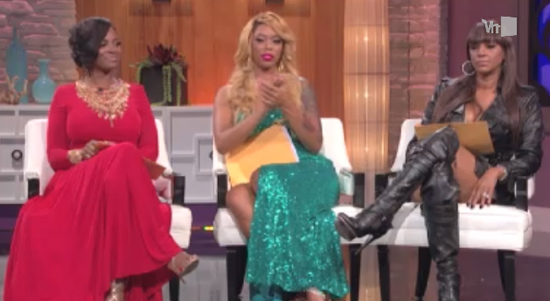 It's been a wild ride, to say the least, but the madness that is "Basketball Wives L.A." is finally over. The ladies sat down for ONE more hour of shade and side-eyeing and really, it wasn't worth the time wasted, if we're being honest.
John Salley was the messiest queen on the scene but thank god he was there, cause besides Bambi, none of these bitches had a personality worth a damn.
Salley opened the second half of the reunion by asking the ladies who they felt should leave the show. Most people wanted Laura and Gloria to bounce.
In fact, when Salley asked the audience to put it to a vote, the audience OVERWHELMINGLY wanted Laura and Gloria to bizzounce. You could see the look of hurt on Laura's face but robo Gloria didn't seem phased at all. Despite her claim that she MADE BBWLA, Gloria has made it clear that she's over it.
The biggest tension of the reunion was between Jackie and Laura as Jackie confronted Laura over her sneaky decision to speak and conspire with Jackie's daughter behind her back.
Instead of clawing back like she normally would though, Laura was contrite and apologetic. She said watching her behavior on TV made her realize that revenge is never worth it and that crossing the line with Jackie's daughter was one scheme gone too far.
Oh. Okay.
Is that maturity and growth? No wonder these chicks are losing the ratings war.
Bambi kept coming for Gloria's neck in the second half of the reunion and she really tried it when she kept asking Gloria where they could find episodes of her little web series.
Shade! Truth be told, Bambi did Gloria a favor cause didn't nobody watching the show even know the title of that wack ass bullshit.
Another funny highlight came when one audience member asked the BBWLA ladies which woman they'd swap from their cast with the Miami cast. Guess who was the ladies' preferred Miami diva? Evelyn Lozada.
Considering the TRASH Eveyln has heaped on the whole BBWLA, their admiration of her was surprising, but Draya, Jackie and Bambi were all on Team Evelyn.
Maybe she can have a guest role next season? It's not like she's busy these days anyway.
Be the first to receive breaking news alerts and more stories like this by subscribing to our mailing list.