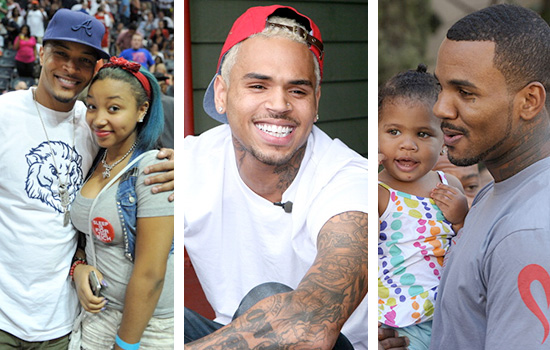 These rappers are really funny. They've spent the past three years tripping over themselves making excuses and apologies for Chris Brown's domestic violence behavior. "Oh, we shouldn't judge a man based on one action," or "Everyone deserves a second chance," or "It's just young love."
Game, in particular, has been staunchly in Chris Brown's corner, calling him a "little brother" of sorts. Every time he's been asked to comment on Chris Brown and Rihanna, he's been supportive of Christopher. But something funny happened when Howard Stern asked Game how he would feel if it were his daughter Chris had assaulted and not Rihanna.
"If Chris Brown was dating your daughter and he smacked her up like that, would he be alive today?" Howard Stern asked.
"Uh, let's not paint that picture," Game said.
The same thing happened with T.I. He was all rah-rah for Chris Brown and Rihanna on the "Joy Behar Show," but then Joy asked him how he would feel if one of his daughters dated a guy like Chris Brown.
"Absolutely not, but when my daughter's grown, what can I say?" T.I. said.
Weird. So everyone should forgive Chris Brown as long as they pretend that it couldn't happen to one of their daughters.
Hip Hop sure has a funny way of getting Chris Brown off the hook.
Be the first to receive breaking news alerts and more stories like this by subscribing to our mailing list.