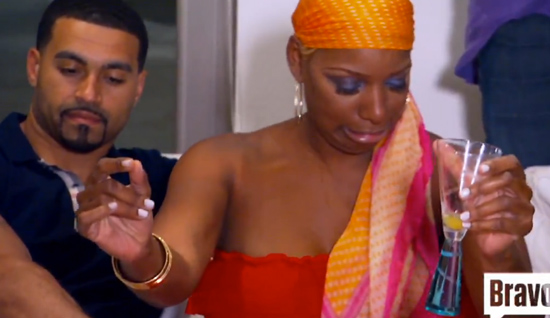 The beginning of the episode started out with a little unfinished business so we're right back into that brunch scene where Kim backed out of a ladies event for the millionth time and caught the ire of all.
Kim quit the show right on the spot and she started shoving her hands in front of the cameras telling them to GTFO. Her hubby Kroy also tried to play papa bear and got buck.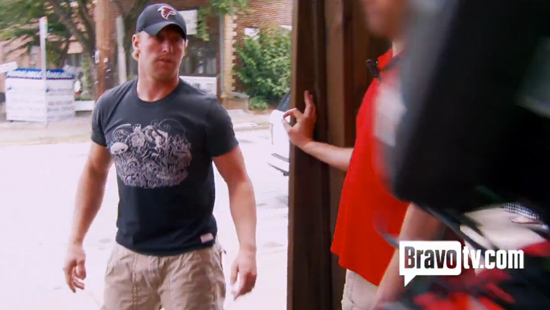 This shit is tired and fake as hell because they're not quitting reality TV. Kim's getting her own spinoff so the cameras will be around for quite some time. Besides, how would Kim pay her bills without reality TV? Is she gonna go back to nursing? HA!
Anyway, now that the old white witch is finally dead, all of the brown girls are free to let loose and have a good time. So off to the Caribbean they go!
The ladies of Atlanta gathered up their mens and headed to the paradise in the West Indies known as Anguilla. Because the ladies were at each other's throats last time when it was just them in South Africa, they decided to bring their boy toys along to break up some of the estrogen-fueled tension.
Unfortunately, bringing the fellas along added a whole other dimension to the tension because Kenya was man hunting, and she didn't give a damn if the man was married or single. All in all, the whole Anguilla trip felt like a rehash of Tyler Perry's "Why Did I Get Married?" sequel.
The producers tried to inject a little romance and suspense by having Kandi show up solo and pouting that her boyfriend Todd couldn't make it. But since he was a producer on the show in the past, he knows a thing or two about the element of surprise for TV, so he shows up "unexpectedly" and makes the trip after all. Yeah, okay. Cause you book an international trip last minute and happen to conveniently squeeze in on the same flight.
Kenya started the trip off with some foul shade when she ignored the hell out of Porsha and her husband Kordell. She greeted every damn body with a "Hi! How are you?" but skated right on by Ms. Porsha like she was invisible. This is the shit we tune in for.
Once everyone arrives the merry gang heads off.
Upon arrival in Anguilla, the gang rides in a boat to reach their destination. For some reason, the captain of the boat lets Krazy Kenya have a go at the wheel and fires that baby up and has people spillin their drinks and busting their titties out of their tops.
Letting Kenya steer that boat is like giving the keys to Lindsay Lohan: A very bad idea.
After NeNe damn near lost her cookies, they arrive at the hotel and get a tour of the place. As the hotel staff show each couple their rooms, Kenya gets to complaining when she gets an eyeful of her junior suite.
Her main gripes: No bath tub, too small and the toilet isn't in its own closet. Surprisingly, she didn't complain about there not being a bidet.
As Kenya spazzes out on the bed about her awful room, Walter asks if she's taken her meds. That's what we've been wondering all season long.
Later on in the evening, the gang hit up the pool for some liquor-fueled diversions. This being a bunch of black folks, wasn't nobody trying to get in the pool and get their hair wet.
So Walter was swimming in the pool all by his lonesome. Apollo was the only dude besides Walter in his swimsuit. Gregg probably didn't want to show off his beer keg belly and ditto for Uncle Ben (Peter).
Kenya decided to take advantage of the fact that Apollo was shirtless to put her hands on him, so she playfully shoved Apollo into the pool.
Phaedra's face looked like a woman who'd just caught her husband playing footsie with his mistress under the table. She was NOT pleased and she stayed mean mugging Kenya the whole time.
Her eyebrows raised even more when Apollo got out of the pool and picked Kenya up and tossed her into the water.
Kenya loved the feeling of Apollo's strong arms right under her booty so she was pleased as all hell to get all wet in the name of flirting. Never mind the guy who she swears she's going to marry, Walter, bearing witness to Kenya shamelessly throwing herself at a married man.
If Kenya is REALLY trying to persuade Walter to propose, she's giving him no good reason to. Dr. Dre and Snoop Dogg already told y'all: You can't make a ho a housewife.
But Kenya wasn't done with messing with other people's men yet. She also booty popped and dropped it in front of Peter's old-man crotch, while his wife Cynthia took care of things from behind.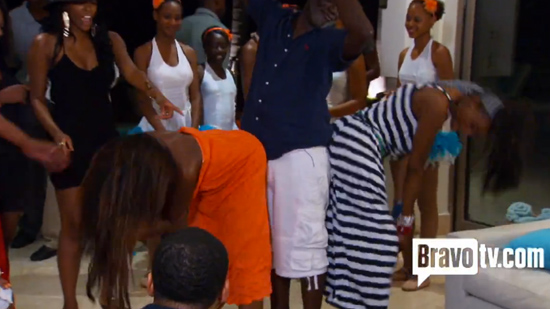 Now this is funny because Cynthia kept saying in her confessionals that if Peter had picked Kenya up and thrown her in the pool that she would've had a big problem with that. But she's okay with Kenya freaking her husband in front of everybody? Cynthia be tripping.
Not wanting to let Kenya steal the show, the next morning Phaedra comes out in a fishnet-looking top with a damn thong on.
Yes, Miss Phaedra Parks, attorney-at-law, had her ass cheeks on display for the day. Take that, Kenya Moore.
To be honest though, Apollo looked more appalled than turned on by his wife's outfit. But hey, all eyes were definitely on Phaedra instead of Kenya for at least 5 minutes. So there's a small victory to hang her hat on.
Since this is a couples trip, everyone got some alone time with their significant others. Once Kenya got some one-on-one time with her boo, she continued her full-court press on the "Marry Me" front. Walter, who has tried to politely rebuff her strong advances, asked if she really was ready to be married.
Kenya responded that she was essentially ready to take the plunge because she's tired of waiting. In other words, she let Walter know he may not be Mr. Right, but he's Mr. Right Now so she's ready to do it to it. Then she suggested it would be easier if they just eloped.
Walter, run and don't look back. Kenya Moore is the Joker, but if you walk down the aisle with her, there won't be anything to laugh about.
Be the first to receive breaking news alerts and more stories like this by subscribing to our mailing list.