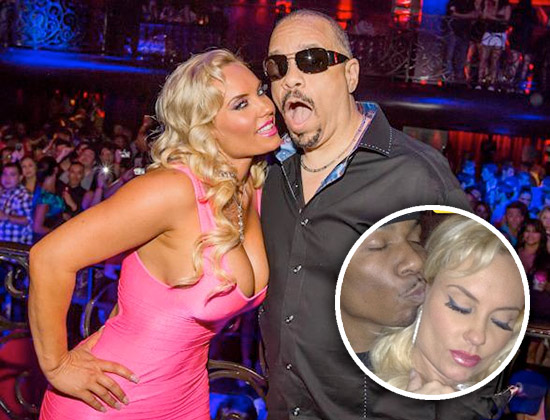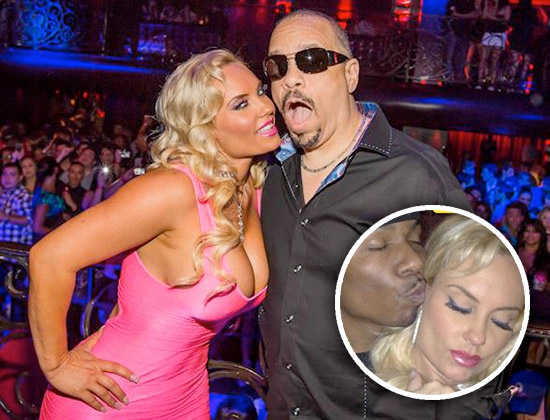 Photos of Coco getting all flirty and what-not with another man who is most definitely not her husband Ice T recently surfaced online, and it goes without saying that the Ice man was pretty pissed about it.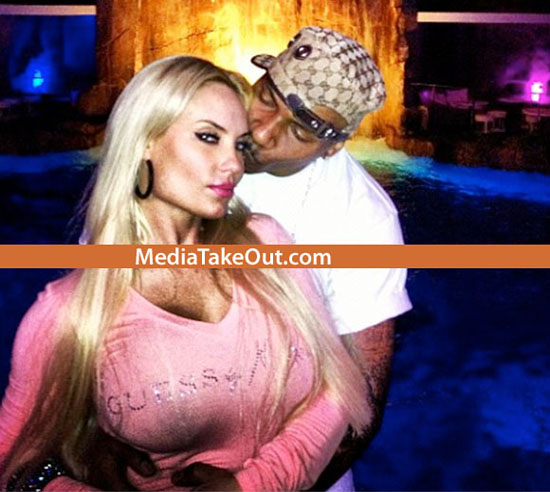 The "SUPER DUPER MEGA WORLD EXCLUSIVE" photos from Media Take Out show Nicole "Coco" Austin snuggled up with some underground rapper from Oakland named AP.9 — a member of 'Gangsta rap' group Mob Figaz.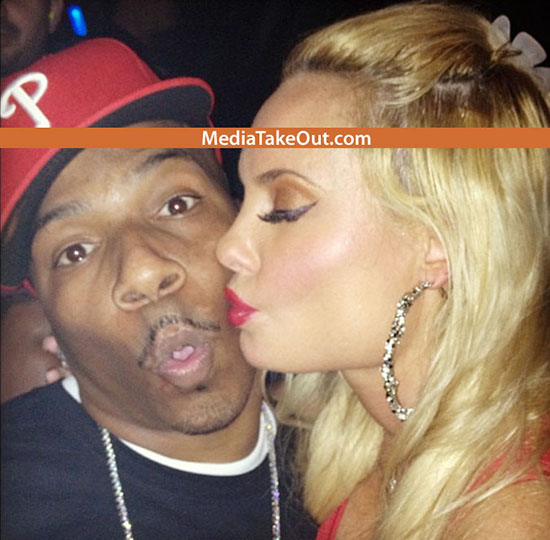 Coco, who is currently in Las Vegas headlining a topless peepshow, is also seen hugging and kissing the guy on the cheek in the pics, which also show him doing the same things to her in not just one or two, but three different occasions, in what appears to be separate locations (most likely nightclubs in Vegas).
At first, Coco tried to downplay the images when fans started asking her a bunch of questions about them on Twitter:
Woke up to people in a panic about some pics,please guys I'm happily married,sometimes fans & friends take silly pics. Its harmless. #RELAX
But Ice T wasn't so copacetic about seeing his wife kissing all over another man on the Internet … even though she's in Las Vegas showing her boobies off to crowds of people, and is known for being provocative and posing suggestively with her "fans" in photos. But, for whatever reason, this was different to Ice.
Early Saturday morning (Dec 8) the rapper turned actor took to his Twitter and let all of his emotions pour out:
Coco's in Vegas. She has given me her explanation of the pics on the net from her first weeks out there with some dude. She said he knew someone in the crew from our show and would pop up where ever they would go. He also said he knew me… I don't know dude.

Regardless… They would take Posed pics every time. Most of them disrespectful and in bad taste. She's made me look.. And feel like shit.

I say this on Twitter because there's no way to avoid the obvious misconduct of a married couple. That's it. Any more questions ask @Cocosworld

Don't get it twisted… I'm not happy about this sh-t.

Daily Game: Trust no one..
Ice later deleted the tweets, but Coco echoed her husband's sentiments in a Twitter statement of her own:
Ice is right,the pics I took with this man were in poor taste & I disrespected my husband however the pics were the only thing that happened. I feel so sad,the bottom line is I love Ice & I can understand why he's upset there's no excuse for my actions. I'm so sorry baby & to everyone.
Ice T and Coco — who have built a strong reputation as America's favorite reality couple, thanks to their E! series "Ice Loves CoCo" — will celebrate their 11-year wedding anniversary on December 31st.
11 years. 11 YEARS! And now this?!?
Ice and CoCo have always been the definition of true love, and directly went against the notion that you can't turn a ho into a housewife … and now we don't know what to believe in anymore!
Be the first to receive breaking news alerts and more stories like this by subscribing to our mailing list.