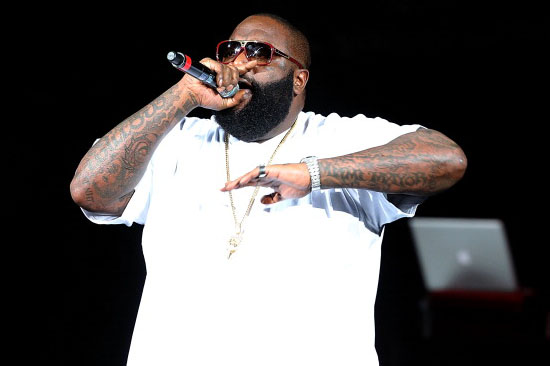 Rick Ross was forced to cancel two concerts in North Carolina this week after the rapper received death threats from the street gang the "Gangster Disciples."
The shows were reportedly scheduled for tonight (Fri, Dec 7) and Saturday night in Greensboro and Charlotte, respectively, but Live Nation Entertainment group announced Thursday morning that they had been cancelled, and fans who purchased tickets to the concerts — which also would have featured Meek Mill, Wale and Machine Gun Kelly — would receive refunds.
Live Nation didn't give an official reason for the sudden cancellations, but many believe them to be linked to death threats from the GDs, who have beef with Ross for using their imprisoned leader Larry Hoover's name in his music, and also for using the gang's signature six-point star on a recent mixtape cover.
The North Carolina chapter of the gang recently threatened Ross with a video on YouTube that had gang members reciting lyrics like "We Maybach Killer."
According to the Charlotte Observer, the gang members — angered about Ross "dishonoring" their gang leader and using their gang symbols in a "disrespectful manger" — warned Ross about performing in their state in the video. (Watch below)
This isn't the first time the Maybach Music honcho has been threatened by the Gangster Disciples. Ross had also been threatened by the Florida branch of the GDs, but went through with a performance in Miami with Diddy Thursday night.
Paul Scott, a minister from Durham, NC who is also a Hip Hop journalist, is comparing the incident to the beef between rappers Tupac Shakur and Notorious B.I.G. which resulted in their deaths less than 1 year apart.
"I think fans should be concerned. I think the parents should be concerned because you never know," said Scott. "No one took the Tupac-Notorious BIG beef seriously until they were both dead."
Be the first to receive breaking news alerts and more stories like this by subscribing to our mailing list.