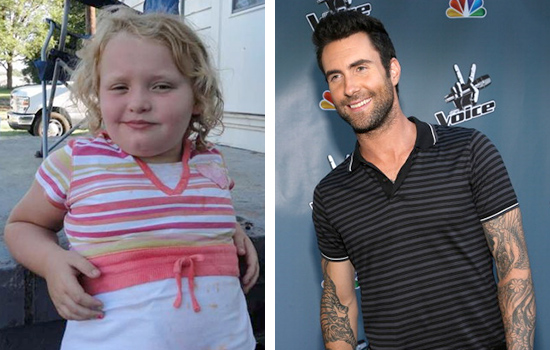 Honey Boo Boo and her family — who collectively star on TLC's hit reality show "Here Comes Honey Boo Boo" — has been subjected to an enormous amount of unwarranted criticism. But if an award existed for who absolutely hates Honey Boo Boo the most, we would probably give it to Maroon 5 frontman and "The Voice" judge Adam Levine based off his opinion of the show alone:
Seriously, Honey Boo Boo is the DECAY of Western civilization. Just because so many people watch the show doesn't mean it's good. So many people witness atrocities and can't take their eyes away from them, but that doesn't mean they're good.

That show is literally The. Worst. Thing. That's. Ever. Happened. It's complete fucking ignorance and the most despicable way to treat your kids.

Fuck those people. You can put that in the magazine: Fuck those idiots. They're just the worst. Sorry, I'm so sensitive to that—like, I don't know, man, it's upsetting. Just to clarify, I said, "FUCK THOSE PEOPLE." [GQ]
The "decay" of western civilization AND the worst thing that's ever happened to it? What exactly did Honey Boo Boo do to deserve all of that?
Adam Levine is cool and all, but it's not like "Moves Like Jagger" is the best thing that's ever happened to western civilization either.
Leave Honey Boo Boo alone!
Be the first to receive breaking news alerts and more stories like this by subscribing to our mailing list.