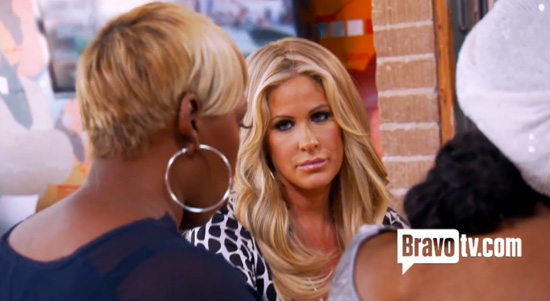 You know, as awkward and embarrassing as Sheree's exit from the "Real Housewives of Atlanta" was last year — with her illustrious "Chateau Sheree" still nothing more than an empty lot at the tiem — we're starting to think that she went out the right way. Cause Kim Zolciak's hissy fit quit certainly was not it.
The whole meltdown bubbled up to the surface during a brunch the ladies of Atlanta were having about their annual "girls getaway." You'll recall that these getaways often turn into estrogen-hyper cat fights, as seen on past seasons when they hit up Star Island in Miami and scrapped or when Sheree and Marlo battled it out last season in South Africa.
So we can kind of understand why Kim wasn't looking forward to what was undoubtedly going to be a tension-filled, uncomfortable shadefest. But if that's the case, she should've hit the road with Sheree last season instead of dragging shit out for the paycheck.
It's quite clear that NeNe, at this point, would probably rather not do many of the RHOA-related things she's doing, but unlike Kim, NeNe knows how to be a good sport.
As the biggest star on the show, NeNe can afford to keep it cute, but with Kim pretty much getting what she wanted from the show (a baller and a shot-caller husband), she's over it.
Back to the matter at hand though. So Cynthia is planning to make the girls trip a couples trip this year and she's set her sights on Anguilla. She and all of the other women say that they've taken pains to make sure Kim can make it this year and they've run dates by her to accommodate her and her oh so busy schedule.
So it's clear that they're trying to make it work for Kim, but it's also clear that they knew she'd do what she always does: Make excuses and back out. And Kim doesn't disappoint on that front at all.
Kim is the last one to arrive to the brunch and as she waddles her way to the table, you could cut the tension in the room with a plastic butter knife. After the pleasantries are set aside and they start discussing the trip, Kim's excusing come tumbling out of her mouth like waterfalls.
"I can't travel out of the country at 32 weeks."

"I have to check with my doctor first."

"My due date has been moved up twice."

"I didn't agree to those dates."

"I've got a one-year-old at home."

"The TSA won't let me bring my wig collection."
Okay, we made that last one up, but you get the point.
The women at the table looked back at Kim with looks that were more sour than two-month-old milk.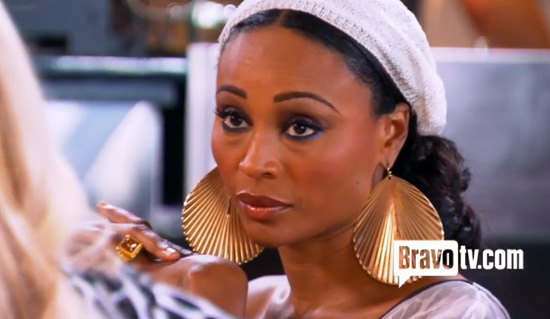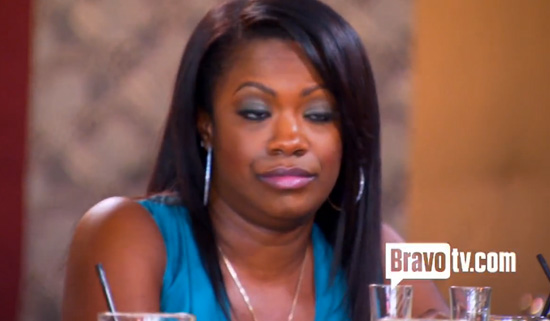 They were through with the lies, deceit and fakery. And they ALL let her have it. Even Kandi.
One credit to Kim, she called out two instances that she tried to hang out with the girls but they showed up mad late. Kandi was an hour and a half late for a date they'd set up and NeNe was two hours late to her own party.
Black folks love to show up late to everything and then wanna get mad when people up and leave their events. But then again, Kim was late and the last one to arrive for the brunch so….maybe not.
But still, if Kim wasn't feeling the RHOA gals, she should've just been up front instead of stringing everyone along and dragging the whole thing out.
Like the wise NeNe said, "If you was the right kinda bitch, you'd walk in here and say, 'I don't wanna travel with y'all because I don't want to.'"
Kim should've saved everyone the trouble once she found she was pregnant with baby number 2.
Once the babies started popping out, she became a very uninteresting character on the show. The ONLY reason Bravo kept her on is because of the tension between her and NeNe. But they couldn't even benefit from that because Wiggy McWiggington refused to hang out with the girls. So bye-bye, Kim!
We had some good times, we had some bad times, but now it's time for you to split like the wig that Sheree tugged on when y'all got into it that one time.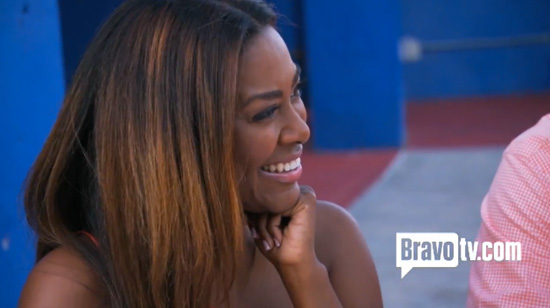 Kenya's Got a Man, But She Wants Phaedra's
Kenya continues to work her way into the hearts and minds of her RHOA castmates and viewers, so she decides to meet up for a double date with Apollo and Phaedra.
She brings along her boyfriend, Walter, but you'd never know he was there if the producers didn't show the title card with his name and relationship to Kenya, cause Kenya started batting her eyelashes and giggling with Apollo from the jump.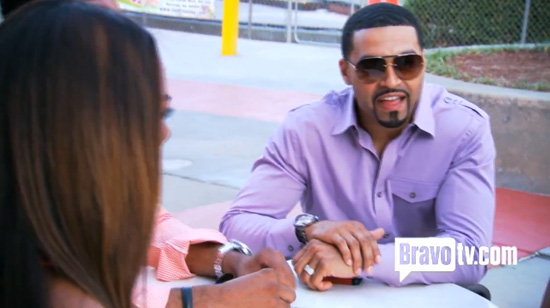 She complimented Apollo on looking like "Tyson Beckford" (huh?) and then she swooned over his "bulging muscles" when he said he was working on a workout tape with his wife.
Phaedra felt Kenya coming on way too strong, but she didn't clap back right then and there.
Walter, on the other, stayed mute and didn't seem one bit bothered by his girlfriend pretty much slobbing a strange man's knob with compliments and flirting.
Kenya was basically putting her cat on the table and begging Apollo to dig in. If these two are left alone for any length of time, watch out.
Once they hit the go cart racetrack, Kenya cackles like the Joker and immediately chases Apollo for more inappropriate flirting. The two race and bump into each other while Kenya and her fabulous hair blow in the wind.
Meanwhile, Phaedra is left behind wondering where the hell "poor Walter" is. The answer: struggling to keep up with his girlfriend and failing to put the pedal to the medal in his go cart.
There's some foreshadowing and symbolism here. We won't be surprised if Kenya and the tow truck man don't make it after all.
Later in the episode, Kandi announces to Phaedra that she wants to invite Kenya to the girls' trip because she's "fun."
Right. More like she's contractually obligated to because she's a castmate? We don't know why Bravo insists on these faux story lines, but whatever.
Cynthia left her caught out there when Kenya point-blank asked if she was invited to the trip.
Cynthia didn't answer; she just batted her eyes and kept her mouth closed. Kenya laughed and awkwardly announced that it was okay, because she was inviting herself anyway.
This was cute and all, but utterly pointless because like we said, Bravo had her ticket booked from the jump anyway.
But shout out to Kandi for leaving ol' girl out there all by herself. In her interviews, Kandi kept talking about how she wanted Kenya to come but when Cynthia came for her, Kandi didn't offer a single word of support.
The nice thing is that in this episode, Kenya got to sit back and watch the drama, instead of being in the center of it.
When shit started going down with Kim, Kenya sat back and ate her food quietly and nicely. If she did this more often, she'd probably find herself in less trouble.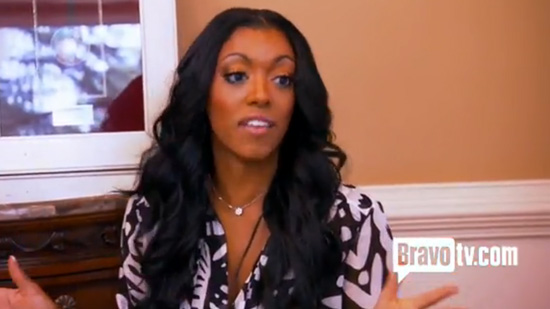 Porsha Has Trouble with the Number of Days in a Year
Porsha is not the sharpest knife in the drawer. That seems to be the producers' opinion of Porsha because they've bent over backwards to make ol' girl look like a grade-A fool. And she, unfortunately, has provided them with plenty of material.
Cynthia and NeNe meet up with Porsha to talk about her grandfather's foundation, and she explains that the charity works year-round and not just around Thanksgiving, which is what they're known for. Porsha clumsily says that the charity's work is needed "265 days a year."
Hold up. Wait a minute. Add a hundred more days to that, Miss Porsha. NeNe, to her credit, didn't bust out laughing right at that moment. She kept it professional and smiled politely.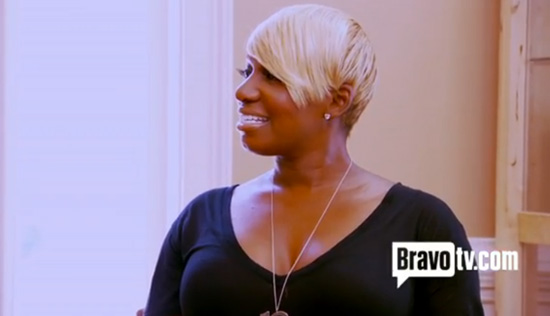 Poor Porsha. She's not book smart or street smart. But she is wedded to a (former) baller so hey, that's what matters, right?
Be the first to receive breaking news alerts and more stories like this by subscribing to our mailing list.