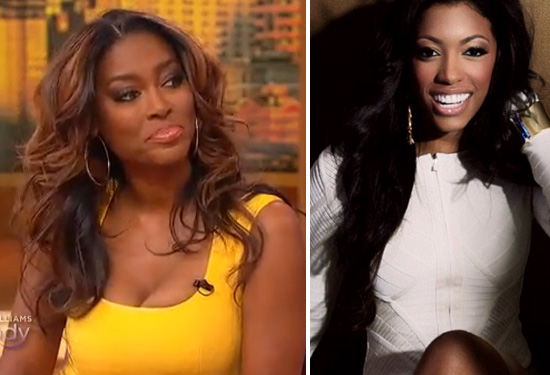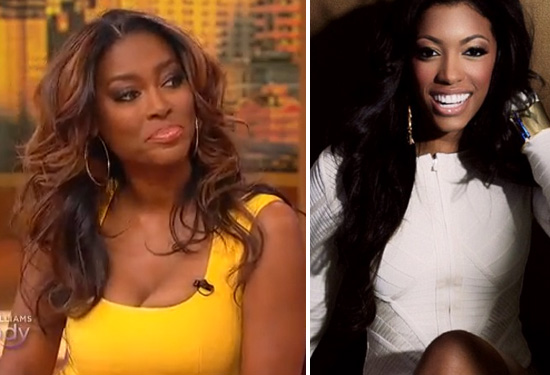 Kenya Moore might have clashed initially with "Real Housewives of Atlanta" co-star Cynthia Bailey, but her hatred truly runs deep for her fellow RHOA freshman Porsha Stewart — wife of former NFL quarterback Kordell Stewart.
The two clashed after Porsha invited Kenya to a charity event and Kenya, feeling slighted and disrespected by Porsha's mixing up her title (she called Kenya a Miss "America" winner when she actually won Miss USA), bolted from the show and abandoned ship
Porsha went outside to check on the beauty pageant queen, and at first, was amiable about the situation. But once she realized Kenya was trying to bail, Porsha asked the former Miss USA to leave and that's when the fireworks went off between the two.
Talk show host Wendy Williams is a diehard RHOA fan and she jumped right into the beef with Porsha when Kenya visited the set.
Kenya explained that her tiff with Porsha didn't start with the Miss America/USA mix-up, though that certainly didn't make the medicine go down any smoother.
The lunch where Kenya initially met Porsha left a bad taste in her mouth and she said the Atlanta socialite was "single-handedly ruining her grandfather's [Hosea Williams] legacy."
Then, she straight up called Porsha a ho, saying, "Some people work for a living and some people twerk for a living."
Watch Kenya's interview with Wendy Williams below: