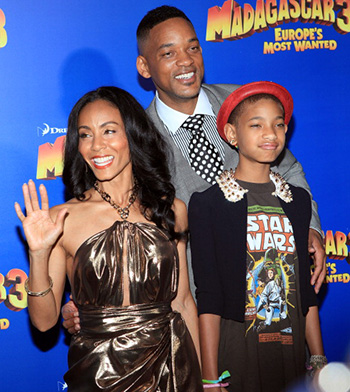 Jada Pinkett Smith has a message for all the critics out there who have something to say about her parenting style, and the fact that she "LET"s her 12-year-old daughter Willow Smith do whatever she wants with her hair, because in the words of India.Arie, Willow is not her hair.
Not that it's anyone's business how Jada raises her own child anyway … but she thought she would just let you know.
Read what the 41-year-old actress posted to Facebook last week below:
A letter to a friend…

This subject is old but I have never answered it in its entirety. And even with this post it will remain incomplete.

The question why I would LET Willow cut her hair. First the LET must be challenged. This is a world where women,girls are constantly reminded that they don't belong to themselves; that their bodies are not their own, nor their power or self determination.

I made a promise to endow my little girl with the power to always know that her body, spirit and her mind are HER domain. Willow cut her hair because her beauty, her value, her worth is not measured by the length of her hair.

It's also a statement that claims that even little girls have the RIGHT to own themselves and should not be a slave to even their mother's deepest insecurities, hopes and desires. Even little girls should not be a slave to the preconceived ideas of what a culture believes a little girl should be.

More to come. Another day.

J
Such a cool mom!
And just for archival purposes, here's what Willow's just-as-cool dad Will Smith had to say about the subject in an interview with Parade Magazine back in May:
"We let Willow cut her hair. When you have a little girl, it's like how can you teach her that you're in control of her body? If I teach her that I'm in charge of whether or not she can touch her hair, she's going to replace me with some other man when she goes out in the world. She can't cut my hair but that's her hair. She has got to have command of her body. So when she goes out into the world, she's going out with a command that is hers. She is used to making those decisions herself. We try to keep giving them those decisions until they can hold the full weight of their lives."
Well put, Smiths. Well put.
Be the first to receive breaking news alerts and more stories like this by subscribing to our mailing list.