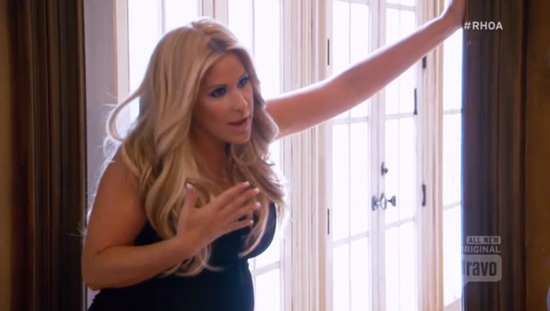 We're not even halfway through the fifth season of the "Real Housewives of Atlanta" and we've already started to witness the cringeworthy unraveling of two housewives: Kim Zolciak and Kenya Moore.
Kim's implosion is actually far less entertaining because her stupid, boring, dull life with Kroy Biermann put us to sleep about two seasons ago. So it's hard to even muster up much laughter at the schadenfreude of Kim getting kicked out of her "dream house."
According to the owner/decorator of the home, Kendra Davis, Kim was not keeping up with the rent. According to Kim, her lease was up and she didn't want to purchase because the appraised value for the home was far less than the price she initially agreed to.
Given Kim's track record of lies, fallacies and fabrications, we're gonna side with Ms. Davis and Mrs. Nene Leakes on this one. Kim's bank account just couldn't reach as high as her French manicured-nails were reaching this time.
So when she pissed off the landlord with her cheapskate ways on the rent, push came to shove and Kim was shown the door. So it's back to that townhouse she goes.
Kroy might be the man of her dreams, but he sure as hell CANNOT bankroll that Big Poppa lifestyle Kim was used to before. So Kim needs to roll back her expectations if she wants to keep it cute.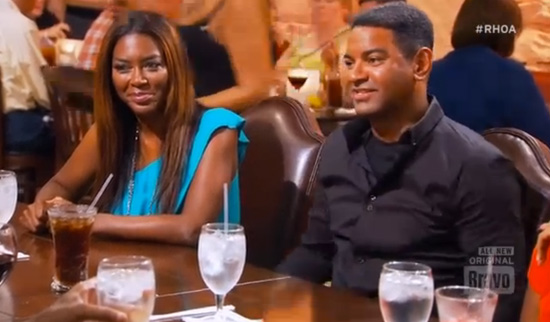 Now Kenya's self-inflicted train wreck makes for much better reality TV. In a way, you can sympathize with Kenya's plight. She's over 40 and her eggs are getting older and dustier than the cobwebs festering on the Chateau Sheree lot.
But at the same damn time, Kenya really needs to ease up on this poor Walter man. She's like the big, bad wolf, ready to devour this man. And now she sic'd her butch, Total reject auntie on the man too?
It's all too much.
The dinner with Kenya's family, which included her aunt and chef cousin, was actually more of an interrogation. The family pretty much spent their time asking Walter in 25 different ways, if and when he would marry Kenya.
The look on his face during the conversation said, "HELP! I'm just in it for the sweet, nasty, gushy stuff; not a walk down the aisle with Miss Deranged and Demented."
In her confessionals, Kenya said she felt like her family was coming on too strong and putting too much pressure on Walter, but she turned around and did the same thing during a "home-made" (HA!) dinner at her house.
Before we get into anymore discussions about Kenya's over-the-top efforts to DTR (determine the relationship) with Walter, we need to talk about Kenya's faking of a home-cooked meal.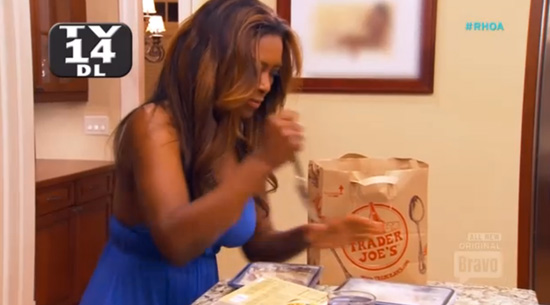 Now look, when you deal with a beautiful woman, you might could excuse some things. And you know what, in 2012, not every woman has to cook. Sometimes the man might be the more culinary-inclined one in a relationship. Or maybe the couple can afford to eat out often.
But running to a damn Trader Joe's for MICROWAVEABLE dinners, and then planting fake evidence in a frying pan to make it look like you actually did something in the kitchen is the height of deceit.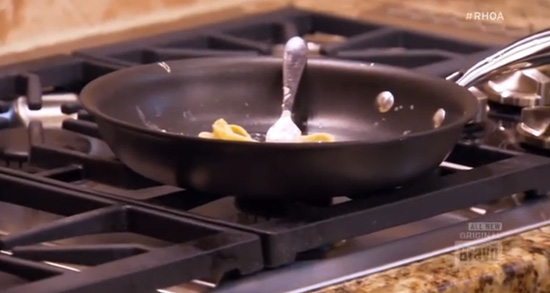 Walter, when you watch this episode, please run and don't walk away from Kenya Moore. This is crazy on a whole other level.
If Kenya's so eager to have a baby, she should just go ahead and join the cast of "Basketball Wives." Them chicks know a thing or two about getting knocked up.
Most of them don't even know a thing about getting married and those that do get married have trouble STAYING wedded, but they're a more fertile bunch than those old crabs on RHOA. Well, excluding Kim, of course, since she's been rocking her uterus with fetal appearances back to back.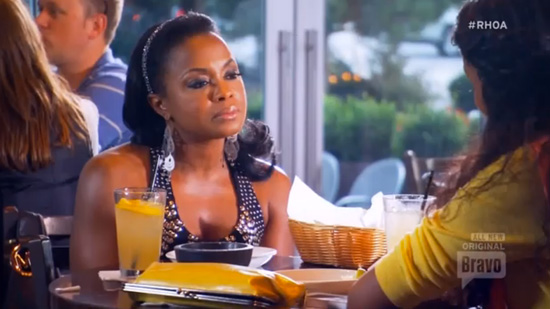 Phaedra's Ass Makes an Ass Out of Her
God bless Phaedra Parks. She's nothing but a damn good time and she knows it. She doesn't take reality TV seriously, and why should she? This is a cast of 40-something-year-olds who don't have full-time jobs, and yet somehow expect to have nothing but the finest in life.
Bitches can't afford an open bar tab for their wedding, but they wanna be rocking a Vera Wang wedding gown. Shit's ridiculous.
So when it comes to her parties, Phaedra makes sure to tart things the hell up. And her most loyal partner-in-crime is Nene Leakes' ex-BFF, Dwight Eubanks.
Her son, Ayden, had a spectacular pool party for his 1st birthday, and keeping up with this aquatic theme, Phaedra booked Ayden's 2nd birthday at the Georgia Aquarium.
To be honest, that shit is pretty damn epic. Who wouldn't be thrilled to have a whole aquarium to themselves for their birthday? And…on top of that, Mama Phaedra booked her little boy his own dolphin extravaganza? Get it!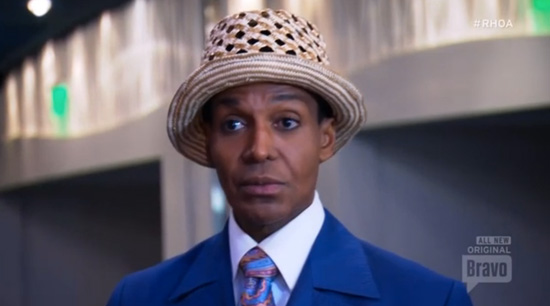 But damn, Dwight's come down in the world. He went from putting together runway shows at fashion events to planning toddler birthday parties? It's hard out here in the streets, y'all.
Of the Housewives castmates, Kandi is the ONLY one who shows up. Kim calls up with a flimsy excuse, as usual, and Cynthia begged off because she was going to be out of town.
The party seemingly went down without incident, but when Nene the shit stirrer met up with Cynthia for lunch, she was quick to let Cynthia know that Phaedra was not interested in her attending the party anyway.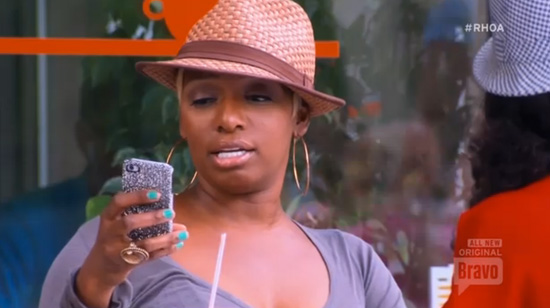 One of Nene's "friends" intercepted a butt-dial from Miss Phaedra, and she could be overheard on the voicemail saying that she didn't give a "fuck" if Cynthia came or not.
Oops!
How much you wanna bet that this "friend" of Nene's was really a Bravo producer? This audio clip recording seems too convenient, if you ask us.
But anyway, Cynthia takes this bit of information and attempts to set Phaedra up over lunch.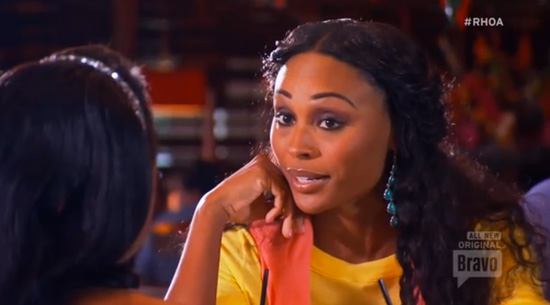 When she meets up with Phae, Cynthia keeps it cool and cute and acts like everything is on the up and up. She asks how the party went and she brings a gift for Ayden.
She then gets Phaedra to confirm that she, Cynthia, has made it to all of Phaedra's other events in the past. Then she hits her with the zinger saying that she feels like the invitations extended to her by Phaedra are just a formality and not sincere.
She then announces that a mutual acquaintance overhead Phaedra saying she didn't give a "fuck" if Cynthia came to her son's birthday party or not.
Phaedra acts appalled at such an outrageous claim and denies, denies, denies. She even makes it a point to emphasize that she would never use the F-word anyway, as it's out of her character.
Cynthia confirms that Phaedra using the f word would indeed be out of her character, but she couldn't deny what she heard coming from Phaedra's mouth on tape. She then asks Phaedra if she'd like to HEAR the tape herself.
And that, ladies and gentlemen, is when Phaedra Parks goes into deflection mode. She looks down at her cleavage and starts complaining about her breasts itching, claiming that some kind of mosquito bit her chest.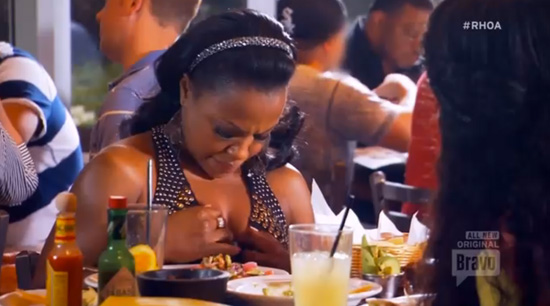 "I guess that bug wanted some sweet chocolate!" Phaedra exclaims.
The only sweet things coming out of Phaedra are the sweet little lies from her sweet little mouth that she's telling to cover her donkey booty.
Score one for Team Nene. A little of Fakedra has been exposed.
Be the first to receive breaking news alerts and more stories like this by subscribing to our mailing list.