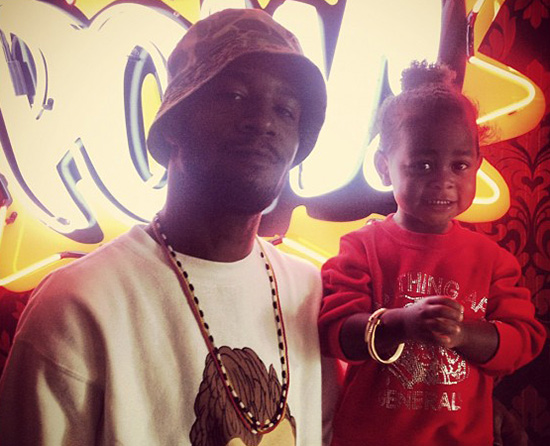 Recently, TMZ, among other publications, reported that Scott Mescudi, best known as rapper Kid Cudi, had agreed "to let his baby mama take full custody of their daughter."
In response, Cudi and his legal team released a lengthy official statement regarding the recent reports. Referring to the final judgement in the custody battle, his lawyer, Lauren Blair of the Chicago-based law firm Pedersen & Houpt, specifically stated, "both parents are fit and proper persons to have custody of their child."
In regards to allegations of Kid Cudi's drug and alcohol abuse his lawyers also stated, "Those pleadings did not contain a single allegation that the mother ever personally observed Kid Cudi using drugs or alcohol, or acting violent, and there was certainly never any allegation during the entire case that Kid Cudi engaged in any kind of illegal substance use or violence in the presence of his daughter, nor was Kid Cudi ever shown to be unloving, uninvolved or in any way a danger or threat to his child."
Kid Cudi's lawyers also explained how the rapper voluntarily took a drug test during the custody battle to dispel the rumors, and the result was negative for drugs.
Additionally, Kid Cudi's legal team made it clear that the G.O.O.D music rapper was never an "absentee or deadbeat dad who didn't want to be involved in his child's life or tried to shirk his parental obligations."
In fact, the court formally acknowledged that since his daughter's birth, Cudi had "attempted to establish a relationship with the child and visit with the child when not on tour, or when he is in Chicago or in the state of Ohio where both parties are originally from."
The court also recognized that Kid Cudi had voluntary provided full financial support — including child support, rent and other monthly payments — since his daughter's birth up until the time that an official child support order was agreed upon.
As for the custody agreement between Kid Cudi and his baby mama, Cudi's lawyers made it clear that the agreement does not mean "full custody" for either party. His lawyers declared, "We don't use the term 'full custody' in Illinois, so I don't know what that means, but in Illinois, a parent can still be highly involved in his or her child's life and have extensive parenting time as well as other significant parental rights without being awarded custody."
Cudi's lawyer said, "Both parties, as well as the judge and the parties' lawyers, worked very hard over many months to reach an amicable resolution because everyone saw that it was in the child's best interest to do so and saw two parents who both deeply love and care about their child."
It's obvious Kid Cudi's lawyers want to repair the image painted by other media sources and we at GOT think it's good to see any single father attempting to play a significant role in their child's life.
Be the first to receive breaking news alerts and more stories like this by subscribing to our mailing list.