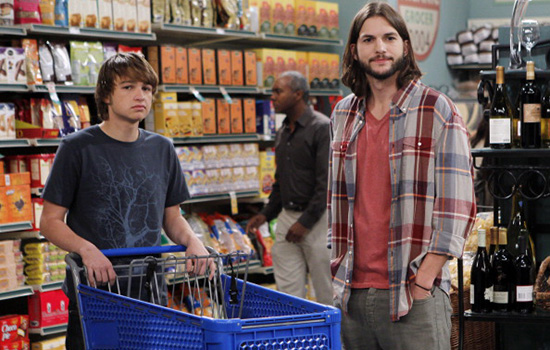 Angus T. Jones, best known for his role as the "half" on CBS' wildly popular TV series "Two and a Half Men," has done some soul-searching recently, and has a helluva message for all of you "Men" fans out there:
"If you watch Two and a Half Men, please stop watching Two and a Half Men. I'm on Two and a Half Men, and I don't want to be on it. Please stop watching it, and filling your head with filth. People say it's just entertainment. Do some research on the effects of television and your brain, and I promise you you'll have a decision to make when it comes to television, especially with what you watch."

[…]

"If I am doing any harm, I don't want to be here. I don't want to be contributing to the enemy's plan … You cannot be a true God-fearing person and be on a television show like that. I know I can't. I'm not OK with what I'm learning, what the bible says and being on that television show. You go all or nothing."
Angus T. Jones's statements comes from a videotaped religious testimonial for the Forerunner Chronicles, the same religious group that brought the world "The Jay-Z Deception" — a documentary that accuses Jay-Z, Beyonce, Kanye West, Rihanna and other world-famous entertainers of being devil worshippers and willing messengers for the work of Satan.
19-year-old Angus — who makes over $300,000 PER EPISODE playing "Jake" on "Two and a Half Men" — says he turned to religion after he woke up one day, and suddenly realized that his life was on a "downward trend," which included him dropping acid and smoking weed while he was in high school. And also, speeding tickets. Because getting speeding tickets is a sure sign that the devil is calling upon you to do his dirty work.
We do agree with Angus about one thing though. Everyone SHOULD stop watching "Two and a Half Men." Not because it's run by the devil, or anything like that, but because the show just sucks without Charlie Sheen.
Neither CBS nor Jones' "Men" co-stars have responded to his accusations that their show is pure evil and "filth" and Jones never specifically mentions quitting the show (or donating the millions he's made from it to a charity or his new "church"), but we're sure new developments will arrive shortly.
For now, watch Angus T. Jones' testimony about "Two and a Half Men" being the work of the devil in full below:
Be the first to receive breaking news alerts and more stories like this by subscribing to our mailing list.