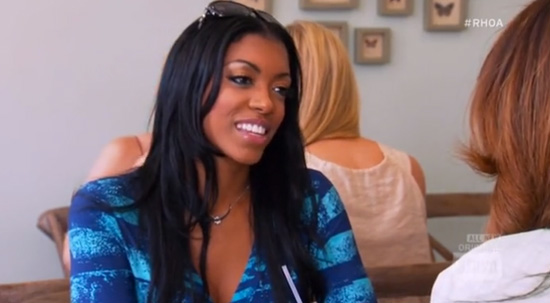 For reasons unknown to us, the reality TV lords over at Bravo have decided that SIX hens in the chicken coop is not enough. We need SEVEN. So they've decided to add Kordell Stewart's wife, Porsha, into the mix.
The best way to sum up Porsha is in three words: DeShawn Snow 2.0
If you remember season 1 of the "Real Housewives of Atlanta", the original cast featured DeShawn and her then-husband and former NBS star Eric Snow.
She was the delusional debutante who went around talking about she needed a "governess" to help manage her household. And she was obsessed with "charity" events, like the one that flopped in her face when she failed to raise the goal amount cause she invited hoodrats who did nothing but eat and drink for free.
Porsha followed right in DeShawn's footsteps as she introduced herself to the squad with a charity event for her grandfather's organization, Hosea Feed the Hungry. But the producers had to give her a "natural" introduction to the show, so they had Porsha approach Kenya to make an appearance at her charity event.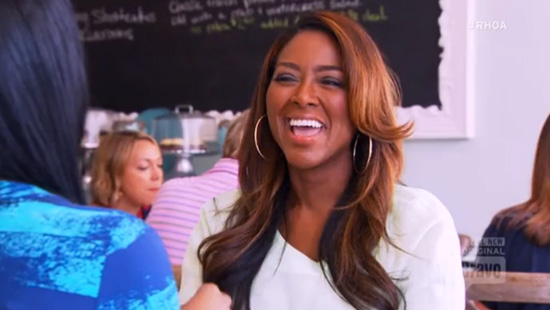 Lawd. They introduced to the craziest one right out the gate?
That's like throwing a damn lamb into a hungry-ass lion's den. And sure enough, Kenya definitely sunk her teeth into Porsha the first chance she got.
To be fair, Porsha was really freaking asking for it. How the hell do you throw a women-only charity event but then invite your husband to lavish you with a damn Chanel purse???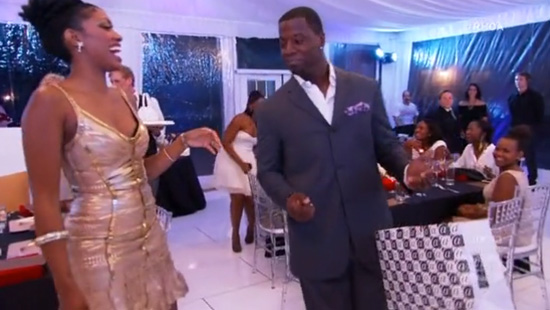 Can the babies eat a handbag, Mrs. Stewart? You wouldn't know charity and class if it sat up and hit you in your face.
After Porsha was done going goo-goo-ga-ga over her husband, she proceeded to step to the mic and introduce Kenya Moore, Miss America. Oh, wait. What's that? She's actually Miss USA? Oops. My bad.
Porsha laughed off her slip-up but she had just made a mortal enemy in that moment.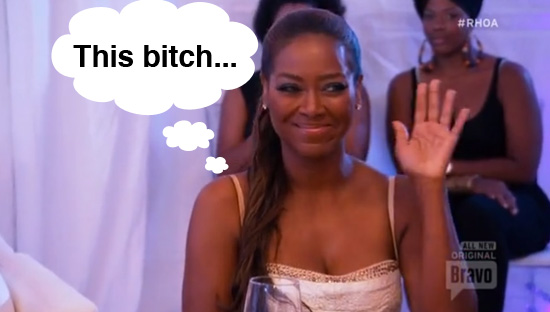 Once Porsha sat down, it was on like Donkey Kong. Kenya immediately began complaining about the temperature in the tent and she made an excuse to scurry off outside while she waited for Miss Lawrence to show up.
Once he arrived on the scene, Kenya immediately trashed the quality of Porsha's event and dissed the guests and venue. Now to be fair, the charity event was oversold a little bit, but Kenya should know all about that. So it's strange that she's acting all brand new.
Porsha, however, doesn't let Kenya sit out there in peace. After Kenya's plate of food arrives and she still hasn't come back inside, Porsha decides enough is enough; it's time to send Kenya packing.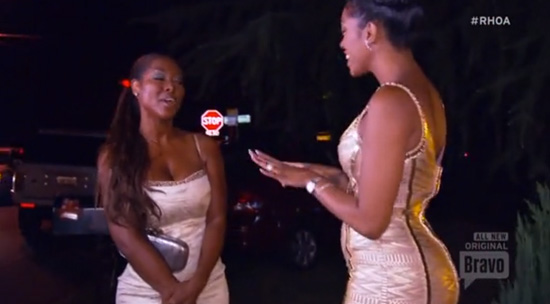 When Kenya calls Porsha's event "wack," Porsha exclaims, "IT'S FOR CHILDREN!" As if that immunizes the soiree from being less than entertaining.
After a little holleration, Porsha asks Kenya to leave, but the funniest part is that she still doesn't realize that Kenya is Miss USA and not Miss America. She keeps mixing that shit up. Foolish.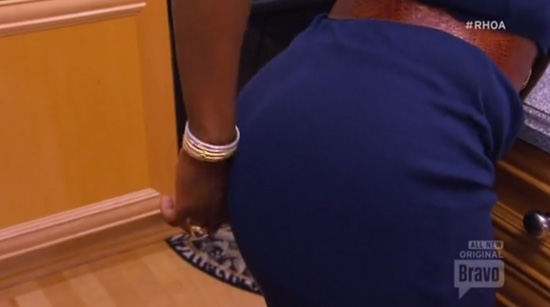 Get Ready for Phaedra's Jelly
Being the serial entrepreneur that she is, Phaedra announces that she's set on releasing her very own donkey booty workout DVD in collaboration with her husband, Apollo.
Wait. How is Apollo supposed to help with this effort? Did he pick up some ass-pounding moves during his prison stint? This might not be safe for work, y'all.
While Phaedra discusses the concept over with her husband, he fixes himself a hot, steaming plate of rice and beans. Say what you will about the artificiality of Phaedra's persona, but this low-grade kitchen and that plate of real home cooking was nothing but the realness.
Apollo surprises us all by announcing that he has recently completed certification to be a personal trainer. Oh hey. That's a leg up on that bill collecting job he was doing, right?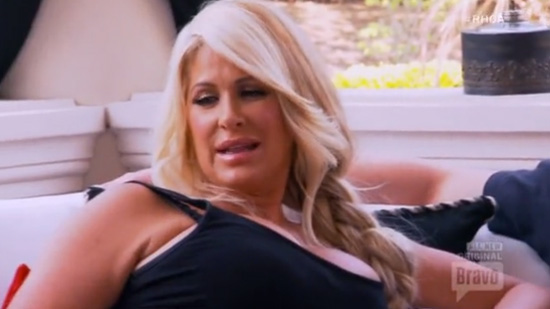 Kim Gets Evicted, Realizes Rules Apply to Her Too
So reality hits Kim as she's now on the last day of her lease and she still hasn't found in Atlanta that she likes. Exasperated, very pregnant and at her wits end, Kim decides she'll have to move back to her "small" 5,000 sq. ft. townhouse.
Right. All of the airs she put on about not finding a house she liked in Atlanta is really just a cover for the fact that she and Kroy probably couldn't afford the sky-high rent/mortgage of a house that size.
Yeah, the NFL pays good but Kroy nobody's MVP and Kim probably burns through her RHOA salary on a wig shopping spree, so it's time to downsize. As Porsha would say, it's what they call a recession. And as Nene would say, "BLOOP!"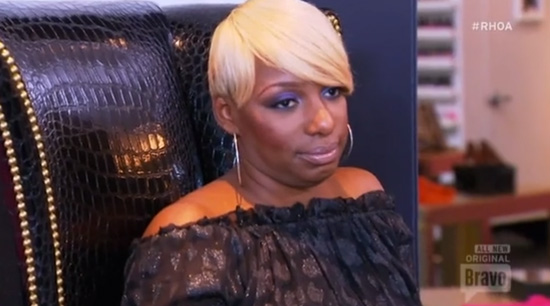 Gregg Tries to Light Nene's Fire
When Nene's not busy celebrating her newfound success, she's busy fending off her ex-husband, Gregg Leakes. Gregg is desperate to get back in Nene's good graces.
This is probably because he needs help paying the light bill or something. Or maybe he's sick and tired of being lonely and looking to grab the moose by the horns again.
So the Leakes give dating a try as they try to rekindle the romance in their relationship. But Nene looks like she'd rather eat Twinkie's out of a baboon's anus than spend one more minute with Gregg Leakes.
Damn. Either Nene is playing the world's most convincing game of hard to get or she really just doesn't like Gregg one damn bit.
Not even an impromptu foot massage can soften Nene's heart toward Gregg. This is one field that might Gregg a looooong time to hoe. He can do it, just put that back into it.
Be the first to receive breaking news alerts and more stories like this by subscribing to our mailing list.