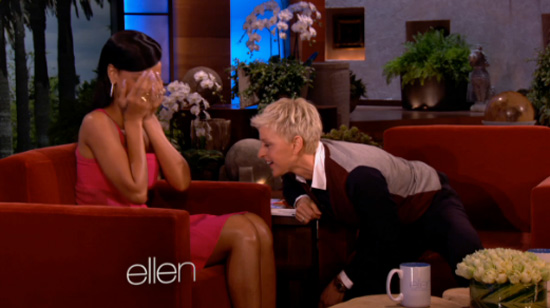 People who have a gift for communicating with horses might be called "horse whisperers," so since Ellen has basically become a master at speaking to vaginas, is it safe to call her the Cooch Whisperer?
Rihanna visited Ellen's show to give the talk show host the lowdown on her latest album, "Unapologetic." But this being Ellen, the conversation veered away from the music and made its way toward Rihanna's personal life, including her sex life.
Ellen started the segment off by playing a clip from Rihanna's visit to the show last year when she said that her non-existent sex life has been hard on "her"; her being her lady honey pot.
But have no fears. 2012 has been a much better year for Rihanna's vagina.
"She's having a little more fun now lately," Rihanna confessed with a laugh. "Hooray for her, right?"
Anyone want to take a wild guess as to who has been taking Rihanna's cooch out for a few runs around the block? Here's a hint: It's probably that guy who really knows how to leave his mark on a lady.
Ellen then leaned in toward Rihanna's crouch to extend a hearty congratulations to RiRi's snatch on the recent boost in recreational activity.
Watch a clip of Rihanna's interview with Ellen below:
Be the first to receive breaking news alerts and more stories like this by subscribing to our mailing list.