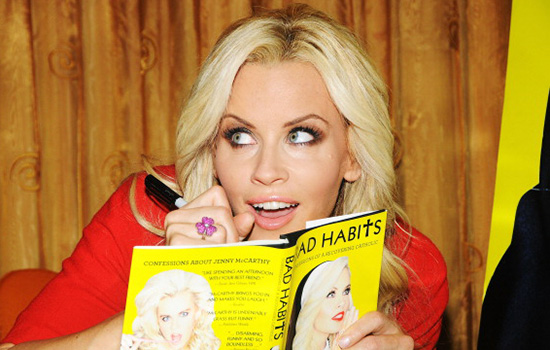 Today is Tuesday, November 13th 2012, which means that it's a great day for Jenny McCarthy to promote that book of hers that she's been peddling around for months now. Because there's not one day on the Gregorian calendar that doesn't constitute a good day for book promo. At least that's how Jenny looks at it.
According to The Daily Mail, the 40-year-old former Playboy Playmate — who celebrated her milestone birthday earlier this year with a Playboy cover — admits in the book, entitled "Bad Habits: Confessions of a Recovering Catholic," that she once tried to make love to a tree while she was high on ecstasy.
In one chapter of the book, McCarthy writes:
"I found myself holding a tree to brace myself. The texture felt so good that I decided to rub my head and boobs all over it. It was a tree I was humping!"
Oh, don't sit there looking all high and mighty like you've never had a drug-induced urge to have sex with a tree at least once. If not, what exactly are you doing with your life?
Jenny also reveals in another related excerpt that God spoke to her, and she was not pleased with what the man upstairs had to say.
"I heard a chanting voice breathing down my neck. It kept saying, 'Bimbos in limbo.' … This must have been an act of God to punish me."
No, Jenny. That was probably the ecstasy. No, wait. That was definitely the ecstasy.
Be the first to receive breaking news alerts and more stories like this by subscribing to our mailing list.