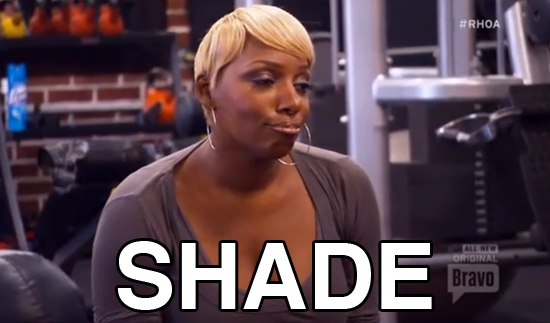 If there's one thing the women of the "Real Housewives of Atlanta" it's shade. Whether it's coming from Nene Leakes or one of the many fabulous sidekicks cavorting around with the don divas, the shade is already served with a wicked side-eye in the ATL.
WATCH: RHOA Season 5 Episode 2
In episode 2 of season 5, the shade darts fly fast and furious as the girls meet and spill tea about an upcoming power women's luncheon, in honor of Nene Leakes. Cynthia is responsible for gathering the smalls and the talls together for the occasion and she enlists Phaedra's help in getting Kandi and Nene's archnemesis Kim on board for the occasion.
Which sets us up for the ultimate question: Will Kim and Nene finally make up?
But before we get to that, we have to celebrate the fabulous, amazing, spectacular, dazzling life of Nene Leakes.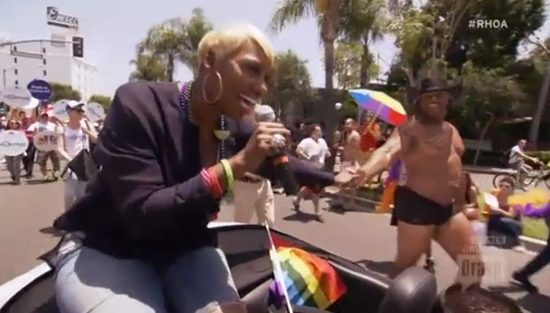 Nene Leakes, Queen of the Gays
If you haven't heard, Nene Leakes is RICH, BITCH. And she's also a source of inspiration for the gays. Sort of like a Mother Theresa for flamboyant homosexuality, if you will.
Which sort of makes sense, since Nene Leakes looks, talks and acts like a bad-ass drag queen. No wonder Glee Ryan Murphy can't resist Nene's charm.
So Bravo opened up the episode by showing Nene's appearance at L.A. Pride, where she was worshipped and adored on like she was royalty.
The gays were losing their shit over Nene Leakes, ya hear? She had folks hugging on her, hollering out her name and she showed solidarity with a large gay black man wearing an Easter church hat, black boxer-briefs and some fierce stilettos. Okay, that last part about the stilettos we made up, but since we couldn't see his shoes, that's what we'll imagine he was wearing.
All of the attention overwhelms Nene as she comes to realization that she has finally arrived. All because she's riding in a sedan in a gay parade on NBC's dime to promote her role on "The New Normal," another Ryan Murphy creation.
Girl, stop.
Don't get us wrong, Nene's definitely making moves, but right now, she's in the good graces of ONE gay man in Hollywood.
She's only been cast in Murphy shows. It's not like Hollywood in general is chomping at the bit to feature her in ANYTHING. What Nene is doing would be as insane as Janet Jackson running around trumpeting her arrival as an actress because Tyler Perry cast her in a couple of his flicks.
At this point, Nene is lucky to be a gay man's muse. It remains to be seen if she can really sustain a viable acting career once her run with Murphy runs dry. So she really should hold off on the celebrations.
But one positive thing has come from Nene's newfound confidence: She's ready to extend some olive branches.
First, she plays nice with Phaedra by agreeing to meet up with her former enemy and her BFF Cynthia.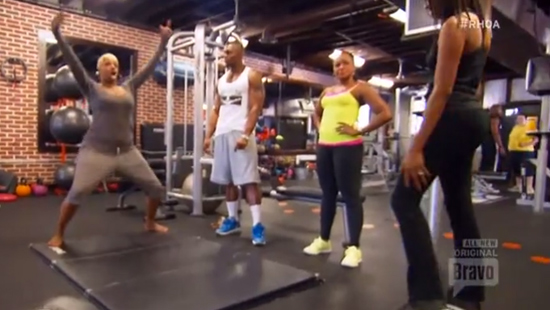 While working out with the two, Cynthia proposes throwing a luncheon to honor Nene's significant strides and achievements in Hollywood. In a feeble attempt at humility, Nene claims she'd rather the luncheon be a celebration of ALL successful women.
At this point, Phaedra cuts right to the chase and asks if Kim is invited. To Nene's credit, she says sure, but she still gives a side-eye at the mere mention of Kim.
Fast-forward to the day of the event and Kim shows up (albeit late) with her assistant, Sweetie. Nene, however, has not emerged. Even though this luncheon ISN'T supposed to be about her, Nene is making it about her by making a late, divaesque grand entrance.
As Nene makes her way down to meet the ladies, she bumps into the devils themselves on their way out of the venue.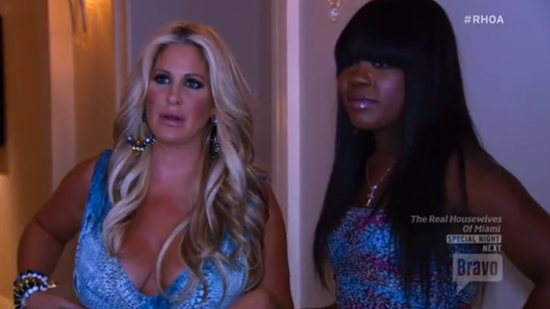 Awkward.
Nene tries to convince Kim and Sweetie to stay, but Kim tries to beg off, claiming that she needs to go meet her husband for dinner.
Nene presses her repeatedly and Kim seemingly relents, saying that she'll be back after she pees. But that's a lie and Kim goes ghost as soon as Nene turns her back.
SHADE!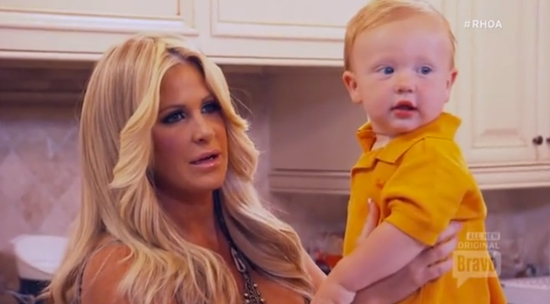 Kim's Foreclosed Life
This is Kim's last season of RHOA, right? Please let it be.
A woman who was once a delicious bundle of wigged trouble has turned into an entitled, blubbering, lazy, uninteresting blob of nothingness.
In this episode, we meet Kim pretending to take care of her infant son, KJ. Within minutes, she calls for her nanny and promptly waddles off to her office to discuss her housing options since the landlord is ready to evict her and her family.
First off, who knew Kim had an office. Why does she even have one? And furthermore, does she read any of the books in there?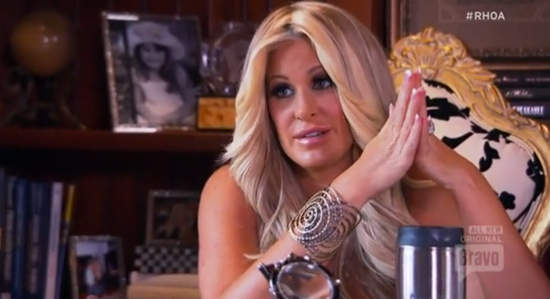 But more importantly, what's with the thrones in the office?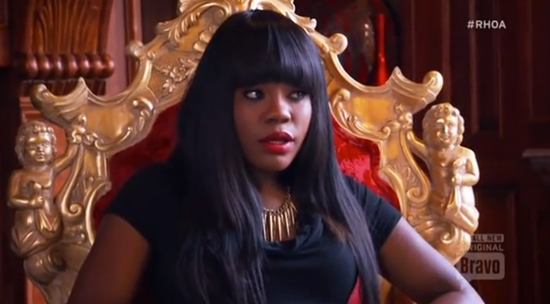 You can tell that Sweetie has been retrained for this season since the last season. She is NO LONGER speaking to Kim wrecklessly. Instead, she calmly and firmly implores Kim to speak with her husband and come to a decision about their next house.
Sweetie sensibly suggests moving back to the townhome, but Kim doesn't want to do that because she's convinced she needs every square inch of her 70,000 square foot home. Because KJ needs his basketball court, she says.
Yes, Kim believes that her infant son's quality of life will be harmed if he's deprived of his very own basketball court.
Bitch, please.
This whole setup is also Bravo's way of allowing Kim to spin her tale of events by saying that her dispute with the landlord has to do with the fact that the home was appraised for far less than what she agreed to purchase it for.
Boo hoo, Kim. If you don't like the price, get out. But you can't not like the price and want to stay put too.
Later in the episode, Kroy sets up a special date or whatever and he presents Kim with some bracelet or some shit that she wore on her wedding day. Apparently, it was borrowed and Kroy went ahead and purchased it so she can have it forever.
Are we the only ones who see something wrong with people on the verge of eviction buying expensive jewelry for each other? Guess so.
SHADE!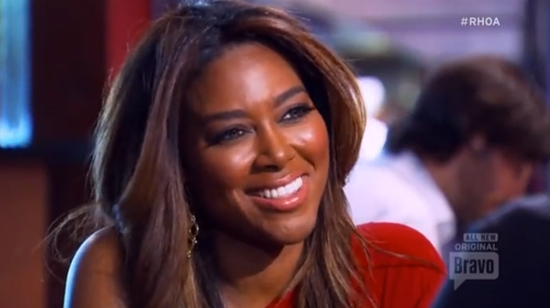 Kenya's Crazy Shows No Mercy
If we had to take a guess as to why Kenya Moore is acting a H.A.M. all up and down this season of RHOA, it's probably because she wants to guarantee her spot on next season and avoid getting cut like Sheree.
And truth be told, so far, she's doing a solid job of ensuring job security cause the crazy is off the charts in episode 2.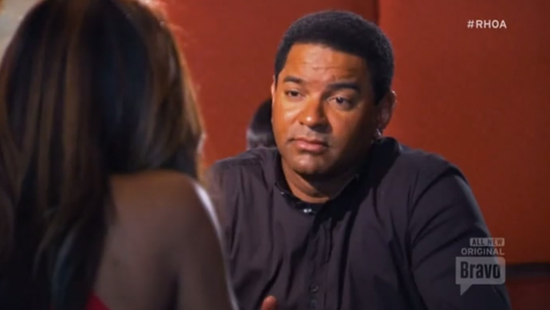 First, she went nuts on her on-again, off-again boyfriend Walter at dinner. She point-blank asked the man over some damn lemon water if he was ready to walk down the aisle plant his seed in her womb.
In her confessional interviews, Kenya complains that she's now 40-plus and thus on a bit of a time clock. Uh, but she should've been on a time clock about 5 years ago if having kids was her priority.
Who doesn't know that having kids in your 40s is a big risk? Why didn't she just go lay under a professional athlete if she wanted kids anyway? If she needs tips, she can always reach out to the cast members of "Basketball Wives."
But the train really came off the tracks when Walter admitted to her that he'd asked Kandi out before. Kenya gets tense, because she knows that he likes big-assed women and she's concerned that Kandi could use this fact as a jab at her in the future.
Okay, what black man doesn't like a phat ass? What's her point here?
Despite Walter's reassurances that he only has eyes for Kenya, she gets so flustered that she awkwardly asks for her food to go and storms off to the restroom.
But this clearly isn't Walter's first time at the crazy rodeo, because he sweet talks Kenya into a better mood when she returns and the night ends on a positive note.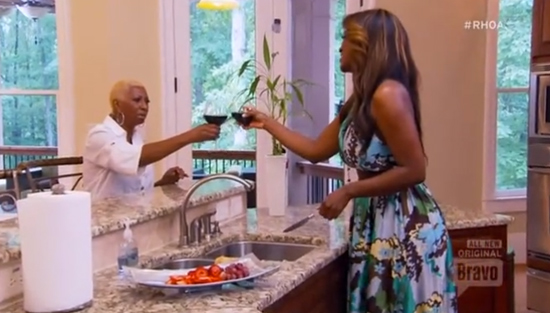 Bravo decides to give us a more personal side of Kenya by giving us more of her backstory. In short, her mother wasn't shit. So Kenya's aunts and grandmother had to step in to really help shape and mold her into the woman she is today.
Kenya's auntie swings by for a visit and the two dish about Kenya's man, Walter, and about when she's going to introduce him to the family. Kenya breaks down in tears because she says she's scared that Walter won't be met with approval by her aunt.
How are you 40-plus and worried about what you aunt thinks about your boyfriend?
SIDENOTE: With that blonde hair, is it safe to say that Kenya's aunt might be a Nene Leakes stan?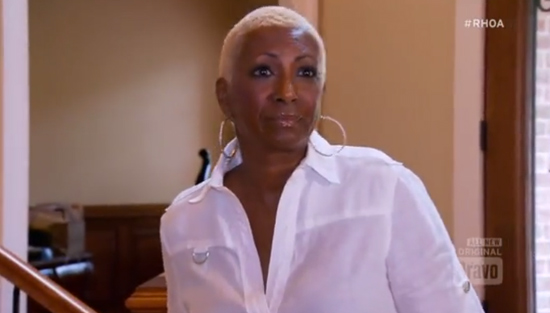 Kenya's antics really go up a notch at the power luncheon when she antagonizes the SHIT out of Cynthia by snatching the mic after her speech.
Kenya calls Cynthia's little kudos to Nene a "clown show" in front of everyone. Truth be told, it was a pretty shitty speech, but damn! You have to have ovaries the size of Jupiter to run up on the host of the event like that for no damn reason.
After the speech, Kenya pulls Nene aside and tries to basically prevent Cynthia from poisoning Nene against her. But Cynthia is not gonna let Nene and Kenya have any alone time.
Once she sees the two paired off, Cynthia swoops in and interjects herself in the conversation. Kenya balks at the intrusion on their conversation and asks Nene if Cynthia is her talking head. Cynthia corrects her and says no, she is in fact a pretty talking head.
Um. Okay, no one ever said Cynthia was the sharpest knife in the drawer anyway.
After Nene assures Kenya that she would never judge her based on her sour relationship with Cynthia alone, things seem to settle down. But since we see Kenya and Nene scrapping in the previews for future episodes, we know that this shady exchange is just the beginning.
SHADE! What is it good for? Absolutely everything.
Be the first to receive breaking news alerts and more stories like this by subscribing to our mailing list.