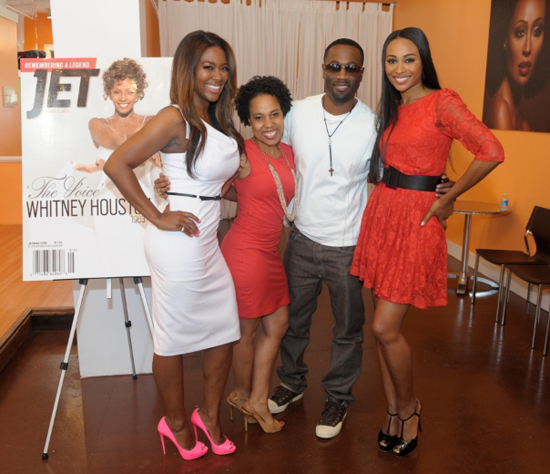 If you missed out on the season premiere of the "Real Housewives of Atlanta," then you missed out on some quality reality television programming.
Miss Kenya Moore made a fabulous debut in the episode but she didn't leave such a great impression on Cynthia Bailey when she started acting all ratchet in response to the less-than-professional models who turned out for the JET Beauty of the Week casting call.
Cynthia took to her Bravo blog to issue a thorough reading of Miss Kenya Moore, and we have to admit, she shut that shit all the way down.
But in all fairness to Kenya, Cynthia's event was kind of shitty. So here's our response to Cynthia's response.
Kenya: "Is that a man? I was looking for the Adam's Apple."

Cynthia: And who's not trying to be the mean girl again?
Gossip On This: Yes, because taking Kenya's words apart line by line for a bitchsmack blog post is so Mother Theresa of you, Cynthia.
Kenya: "Why is Cynthia so comfortable, this is her agency, people are coming off the street looking a hot ass mess?"

Cynthia: Why are you so comfortable to come into my place of business and act a hot ass mess?
GOT: Because she's on reality TV, the place where hot messes are celebrated and worshipped. Now can you answer Kenya's original question? Because we were really disturbed by some of the people who made it through the Bailey Agency's doors too.
Kenya: "Ass crack and couchie crack is inappropriate at an audition, and I am offended."

Cynthia: Calling people bitches, disrespecting me, my school, and my staff, being nasty to the girls trying out, embarrassing me in front of my client, JET, and showing me no appreciation for including your "couchie crack" in the first place is offensive to me, so I guess we are even.
GOT: Uh, but Kenya didn't do anything that Nene hasn't done 50,000 times on the show and you consider her your best frand, Cynthia. When Nene acts up, you chalk it up to her "personality," but let a new chick come in and you're already trying to cut her down for expressing herself.
Kenya: "Who are you and why are you talking to me?"

Cynthia: Who are you and where is your dermatologist?
GOT: Who are you and what happened to your hairline? That joint is pushed farther back than Susan Taylor's fivehead.
Kenya: "My criticism is meant to help" blah, blah, blah.

Cynthia: Help who, you? Putting people down to make you feel superior is very sad.
GOT: Uh, pot meet kettle. Isn't the point of this whole blog post to bring Kenya down and put her in her place?
Be the first to receive breaking news alerts and more stories like this by subscribing to our mailing list.