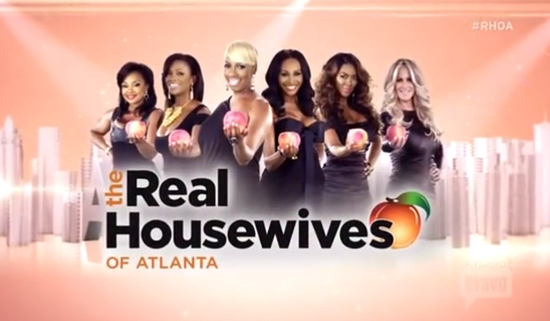 Everyone's favorite "Real Housewives" franchise is back for another round of name-calling, wig-pulling and adrenaline-pumping drama.
While some familiar faces remain, there are plenty of newbies thrown into the mix this season.
Taking the place of Real Housewives of Atlanta original Sheree Whitfield is Miss USA winner and Smooth model Kenya Moore. And let's just say that Miss Kenya wastes absolutely NO TIME in getting the ratchet levels turnt up in ATL.
But we're getting ahead of ourselves. Let's start from the top with the richest bitch in Atlanta, Mrs. Nene Leakes.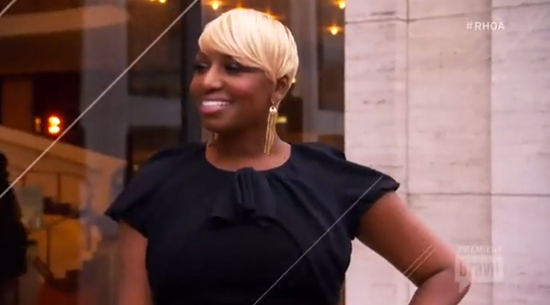 Nene Is Ready to Finally Let Gregg Out of the Doghouse
So for the past two seasons, Nene and her husband Gregg have been in the midst of a bitter separation and then divorce. Since the split, Nene has been courted by numerous men, especially her creepy Italian financier/business partner from last season, John Kolaj. But apparently, Gregg never really left the building.
Rumors of Nene and Gregg knocking boots together during their split ran rampant and in the opening scene of the new season, Gregg knocks on the door to bring Nene her mail.
In case you can't tell, Mr. Leakes will do whatever it takes to get back in Nene's good graces and he insists that he WILL bring the family back together and that he will win Nene over again.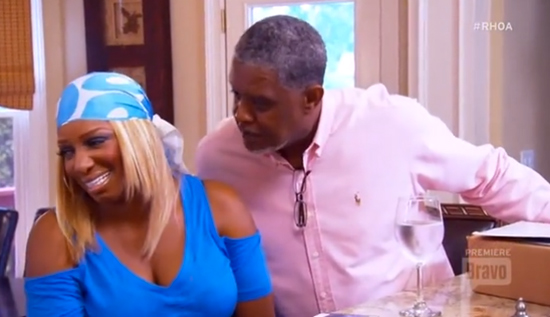 Nene and her new wig respond with restrained optimism to Gregg's pledges. He's made big promises in the past and failed to deliver so she's not putting all her eggs in Gregg's basket again.
While her relationship with her ex-husband appears to be on the mend, Nene's friendship with Kim Zolciak doesn't appear to be, as she made sure to take a dig at Kim in the first five minutes of the show, insinuating that Kim was white trailer park trash.
We can't wait 'til these two meet up again face to face.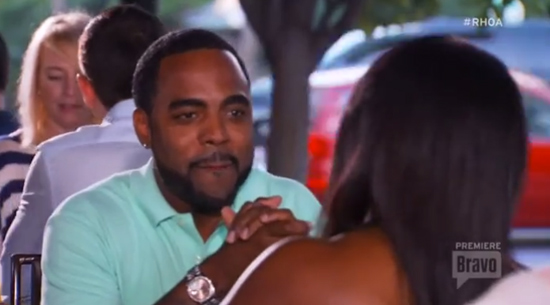 Kandi's Got a New Man
Kandi is not a woman who goes for long without a man. Despite losing her fiance AJ on the show a few years ago, Kandi has rebounded with a new boyfriend, and she didn't have to venture very far to find him.
Todd, a former Bravo producer, is now officially bumpin' uglies with Kandi, and he made the transition from behind the camera to working in front of the camera.
We're introduced to the lovely couple as they hit up a restaurant and speak from a script that conveniently goes over the basics of their relationship. How they met, how they kissed, etc. Hey, you can't say Todd isn't a pro at this. He pretty much wrote the playbook.
As nice as Todd is, he's probably unlikely to get into the mess with Peter and Apollo, so it's safe to say he'll probably stay in the background for much of the season. He knows how hairy things can get out there in Atlanta.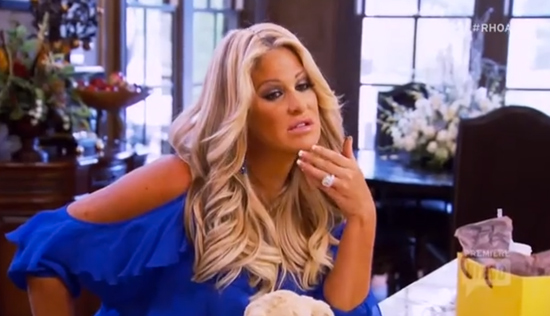 Kim Zolciak Has 99 Problems and Her Landlord Is One
The Wigged Wonder Woman has her hands full with the realities of her new life as a wife and mother. Her girls are growing up, but with her infant son KJ just passing his first birthday and another pregnancy baking in her oven, Kim finds herself uber stressed when faced with an eviction.
Oh, and randomly, Sweetie is back. How the hell someone who was dissed as a white woman's slave on national TV and then rudely fired by this woman can come back for more abuse is a story for another day.
The way Kim explains it, her "dream" house has turned into a nightmare house because her plans to lease with the option to buy have fallen through since the appraisal of the property is $1 million less than it was last year. Oh, and there's also the fact that Kim stiffed her landlord, Kendra, for her interior decorating services.
WTF? How come Kim is that bitch who talks the most about her money and how comfortable she lives but she always has problems paying people what she owes them. It started with Kandi not getting paid for "Tardy for the Party" and now it's extending to Kendra and her interior decorating.
Did Kim just think Kendra pulled all of the fancy Persian rugs that she found in the new home from her ass? Does she think Kendra is in the business of charity?
Kim Zolciak better recognize. In the end, Kim decides she'd rather not deal with the problem at hand with her housing situation and decides she has 90 days to figure out what she's going to do because that's how long she assumes it'll take Kendra to evict her.
Right. And then people wanna say black folks don't pay their bills.
But why was Kim acting MAD shady when she went to visit her "friend" Kandi's new mansion? She made sure to state upfront that Kandi's house was in a bad neighborhood and a foreclosed property.
Meanwhile, Kandi was like: AND???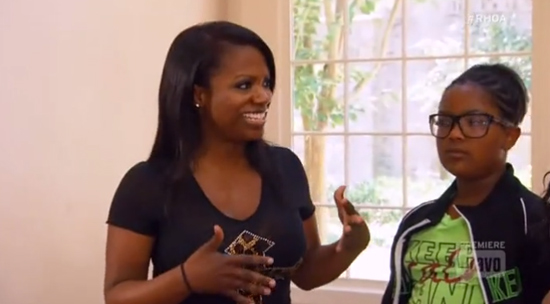 But peep Kandi's daughter Riley's shady side eye. She was too through with Kim's bullshit.
The worst part is that Kim went through the whole house making RUDE comments about her friend's great accomplishment. She openly questioned the painting of the roof in her bathroom and Kim notably made a questionably racist remark about Kandi having an indoor pool.
"Well you don't need sun, so that's perfect! If I was black I'd have one inside my house too," Kim said.
Um. Hey dumbass blonde bimbo, black people tan too.
No wonder Nene had to check that ass on the bus last season about her racist comments toward Sweetie. Kim be crossing the line and she knows it.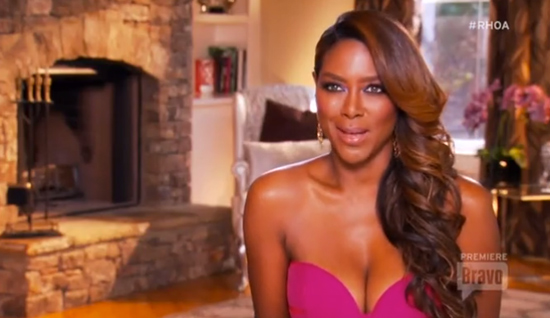 Kenya Moore Takes Atlanta
If Kenya Moore was a force of nature, she'd definitely be a tornado because ol' girl came in with a gust of wind and just wrecked shop.
In her first scene, Kenya reunites with Miss Lawrence and dishes on the dirt. This is perfect for Miss Lawrence, since it looked like his time on the show was going to come to an end once his girl Sheree got the boot, but he's now successfully extended the life of his reality TV career. Get it, get it!
But as much fun as Miss Lawrence is, Kenya is a main act who really doesn't need a side show.
Although Cynthia tries to play it off as an organic decision, the reality is that Bravo has Cynthia invite Kenya over to her Bailey Agency modeling school to help judge an open call for the next JET Beauty of the Week.
Hold up. JET magazine is still in production? And they actually still bother with that Beauty of the Week thing? In an era where hardcore porn is just a click away, who the hell has time for that softcore shit in JET?
And furthermore, even if you like softcore, bikini shots, you can get MUCH more quality stuff from Smooth or KING. But we digress, because apparently it's still a thing.
What happens next is pure Bravo gold. Once the girls begin flowing in through the doors, Kenya unleashes her inner Simon Cowell.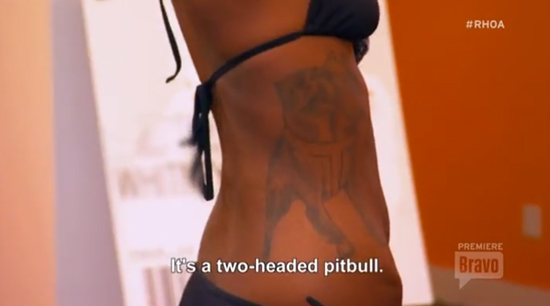 When the hood rat trick with the two-headed pitbull tattoo strolls in and explains that the tattoos represent her "vicious" multiple personalities, Kenya cries out, "Should I be afraid? SECURITY!"
And when the girl with the bikini that was riding dirty and showing off her ass crack and her unshaved bikini area walks in, Kenya pulls no punches in hollering about the COOCHI CRACK hot mess before her eyes.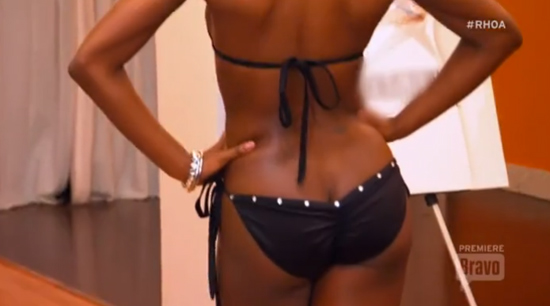 But Cynthia and the JET magazine editor were growing increasingly uncomfortable with Kenya's razor-sharp commentary. They were hellbent on keeping things fun and uncritical, giving syrupy sweet and Paula Adbul-like critiques about these chicks when Kenya really was correct in pointing out that they had no business entering this competition.
Cynthia's staff started voicing their displeasure with Kenya's behavior, and that's when things got REALLY ugly. First, one of Cynthia's assistants took off his blazer like he was bout to box with Kenya. Then Carlton, walks up to Kenya to tell that she needs to cool it now her mean girl antics.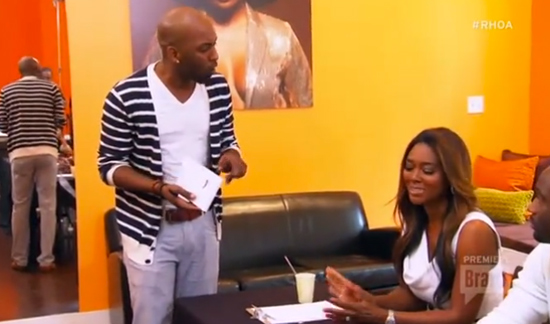 Kenya is flabbergasted by the whole confrontation and she starts to holler, "EXCUSE ME, WHO ARE YOU AND WHY ARE YOU TALKING TO ME? SECURITY!"
Truth be told, Cynthia IS right that Kenya doesn't have a whole lot of room to complain about "strippers" and classless girls, given some of the photo shoots she's participated in, but at the same time, Cynthia needs to recognize that her nice girl commentary was not giving any of the contestants a dose of reality.
If she wants to be a judge/coach for aspiring models, she needs to be comfortable with telling it like it is. Otherwise, why even bother?
Be the first to receive breaking news alerts and more stories like this by subscribing to our mailing list.