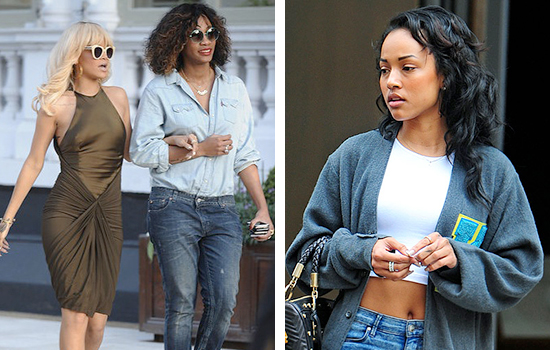 So the Chrianna drama extends to their friends and family too? It's bad enough that Chris Brown's "first ex" Rihanna and his "new ex" Karrueche Tran get into subtweet wars over who gets to suck Chris off for the day, but it's even sillier that friends and associates are trying to wage war on social media over Chris' high-yellow man-ho ass.
Melissa Forde, a longtime Rihanna associate, tried to check someone on Instagram over some perceived slights against Rihanna. Her Instarant used some racially charged language, as she referred to Tran as a "rice cake."
'I get that you don't like my Bfff and trust you don't have to cause the one thing you not liking us will do is stop anything from moving forward!! 'You can be rice cake's friend I don't give a f***, but keep up all this disrespectful talk and while your fake profile having azz is typing on instagram MEE Melissa T Forde will be the one knocking on your door asking you to come talk face to face!'
Is this life? We're threatening to fight people face to face because of Internet comments against a famous celebrity who attention whores 24/7?
Rihanna pretended to be concerned about her friend's behavior by tweeting, "Melissa T Fooooorde! STOP IT!!!"
Of course, what Rihanna really was doing was sending off a bat signal to her Navy so they could all run to Instagram and delight on the Karrueche shade themselves.
You know, say what you will about that Karrueche, she may not always get the man, but she stays cool as a cucumber. She has yet to address this Rihanna/Chris thing directly and everything about her says, "I'm unbothered," with regard to Rihanna's childish stunts.
When can we book Chris, Rihanna and Karrueche on Maury so they can hash out their trashy love triangle on trashy TV where it belongs?
[ONTD]
Be the first to receive breaking news alerts and more stories like this by subscribing to our mailing list.