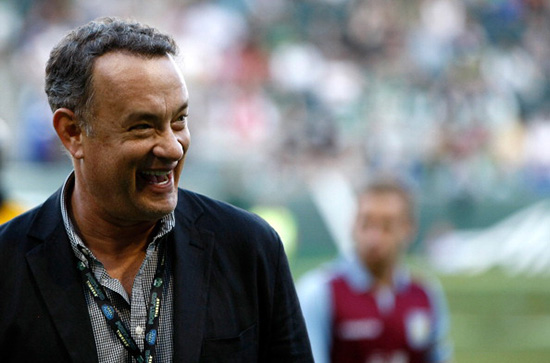 Tom Hanks was conducting a pretty normal interview with "Good Morning America" host Elizabeth Vargas Friday (Oct 19) … until he accidentally slipped and said the f-word live on daytime television. (Oops!)
Hanks was on the show chatting about his new movie "Cloud Atlas" … when Vargas asked him to speak like his character in the movie, whom Hanks said warned was fond of four-letter words, but did it anyway and accidentally blurted out a word that probably shouldn't be used on a show like Good Morning America.
"Most of it is swear words," he had explained prior to the incident. Then the actor went into the accent, saying, "I want people to buy me a f***ing …" and stopped himself immediately, covering his mouth with his hands.

Anchor Elizabeth Vargas was also shocked, covering her mouth and apologizing to the audience, "We are so sorry … at Good Morning America."

"Man oh man. I'm sorry. I slipped into a brand of acting," Hanks, 56, apologized. "I have never done that before. I want to apologize to the kids in America that are watching this right now, and let me say next time on the show there will be a seven-second delay."

Hanks, 56, went on to joke that he should never be given a hand held microphone. "I blame the staff," he laughed. "I blame the staff."

[Celebuzz]
ABC was also quick to release an apology statement (with a little typo, hehe):
"This morning Tom Hanks accidently [sic] used an expletive during a live interview on 'GMA' with Elizabeth Vargas. They both immediately apologized on air, and the show was corrected for the all subsequent feeds."
But despite the immediate on-air apologies from Hanks and Vargas, and ABC's quickly thrown-together statement, the Parents Television Council (PTC) wasted no time in calling the morning show out for allowing the curse word to air live on the broadcast unedited.
PTC Director of Public Policy Dan Isett said in a statement:
"Once again, a morning news show has allowed the harshest profanity to be broadcast into every living room and breakfast table in the country. This is just another in a long, sad string of similar instances where all of the major network morning shows have permitted this inappropriate and offensive content. These cannot and must not be dismissed as 'mistakes,' and it's time for the networks to step up, take responsibility for what they broadcast, and ensure that this never happens again."
Watch the uncensored video of Tom Hanks' gaffe below:
Be the first to receive breaking news alerts and more stories like this by subscribing to our mailing list.