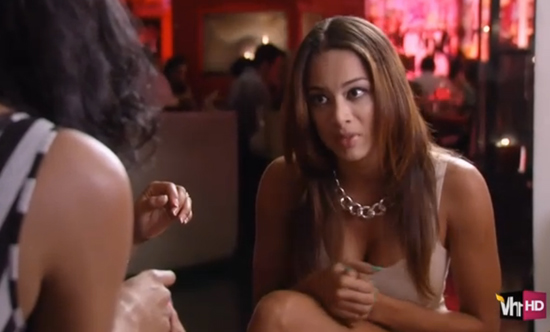 Last season of "Basketball Wives L.A." was all about the Govan sisters, Laura and Gloria. But season 2, it's all about Jackie Christie and Draya Michele.
The last episode ended with a lunch gone horribly wrong, with Draya walking away from Jackie's madness.
She did, however, at least compliment Mrs. Christie on her wise choice of a salad for lunch, over say a potentially hazardous choice, like a burger and fries. See, she was being somewhat nice.
WATCH: "Basketball Wives L.A." Season 2 Episode 5
So after lunch with Draya goes wrong, Jackie and Draya spent episode 5 going to lunch with these other bitches trying to sort things out.
Can these women go horseback riding or make some pottery or something? All they DO is sit at a bar or a lounge over some damn food. Enough is enough.
Anyway, you won't be too shocked to learn that in the end, when Jackie joins the girls for lunch to invite them all to her annual wedding party, things go south really fast.
As soon as Draya spots Jackie's bedraggled weave, she gets to eye rolling. And Jackie picks up on it and asks to the camera, "Oh, what's the lil' cow mad at now?" Well, damn.
To her credit, Jackie tried to be very polite to Draya and offered her a do-over of sorts. She said that she was unhappy with how things were left at their last lunch and said that she's like to have the opportunity to try again with Draya.
Draya, however, told her "Bitch, please." She's tired of doing lunch with Jackie and she feels like Jackie doesn't respect her and treats her like a little girl.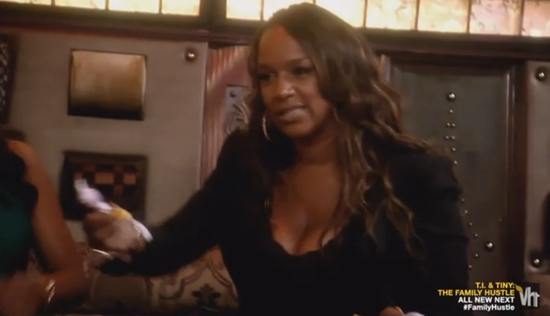 Jackie revealed the depths of her shade by reaching into magic bag of tricks for a lollipop, which she extended to Draya.
At that point, the drama escalated as Jackie started warning Draya that she ain't want it with her.
Then Draya called Jackie an "old bitch" and Jackie got to callin' Draya a ho and bam!
Fur went flying. Of course VH1 saved the good stuff for the next episode, but we saw enough of Draya and Jackie's cat fight to whet our appetite.
The old BBWLA is finally back, y'all!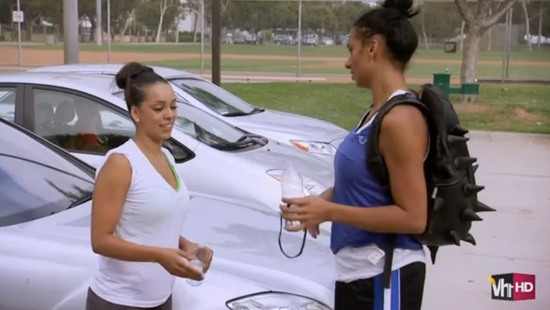 Gloria and Laura Govan Prove Water Is Thicker than Blood for Some Sisters
Apparently, in between season 1 and 2 of "BBLA" Laura and Gloria drifted apart.
The producers have been building up to this great reconciliation but despite the tears shed between the two sisters, it ultimately ends up feeling very hollow from the viewer's perspective because we never get any kind of real insight into what their conflict was.
There is a general statement made by Gloria that "competitiveness" between the two sisters, apparently instigated by outsiders, made them stop talking to one another.
Huh? Competitiveness for what? Seeing who can break and make up with their basketball baby daddy the most?
For two sisters, who were apparently so close that they were willing to go toe to toe with Shaunie O'Neal, to suddenly STOP talking for months over "competitiveness" is beyond silly.
For Laura's part, she says that she felt Gloria essentially went "Hollywood."
Okay. But in order to go Hollywood, don't you actually have to benefit from some kind of success? The only thing Gloria has been successful in is getting her failing marriage drama posted all over the gossip blogs. Is that what counts for Hollywood these days?
Anyway, in a refreshing breath of fresh air, Gloria and Laura meet up to hash their sisterly drama out over a pick-up game of basketball.
Quiet as it's kept, Laura is apparently a real good basketball player. She certainly looks the part too in her basketball shorts and jersey. She gives that butch realness. Don't be surprised if we find out Laura likes to put her paws in other ladies' mousetraps, if you catch our drift.
After the game, Laura and Glo start talking about the drama and each of them accuses the other of not being there, and then Gloria drops the bombshell: SHE HAD A MISCARRIAGE. Aw, snap.
Laura's walls came tumbling down at that point.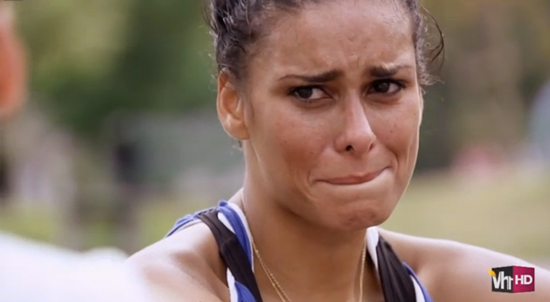 Realizing that there are plenty of common enemies they should be focused on taking down, the Govan sisters dap it out and decide to move on and move forward. Real G's move in silence like lasagna and shit.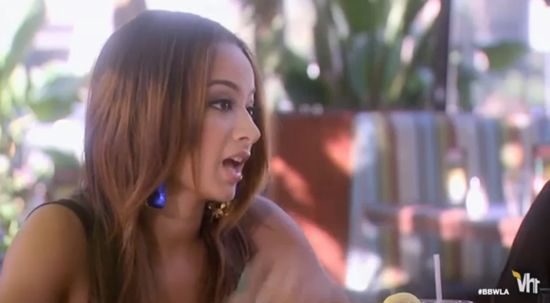 Draya's Troll Mama and Young Daddy Pay Her a Visit
Out of nowhere, Draya's parents pop up to pay her a visit.
If you'll recall the stories that floated around when Draya was dating Chris Brown, her mother has been the primary caregiver for Draya's son. And now that Draya's living off of that "BBWLA" money, she's ready to move her whole family out to L.A. to join her.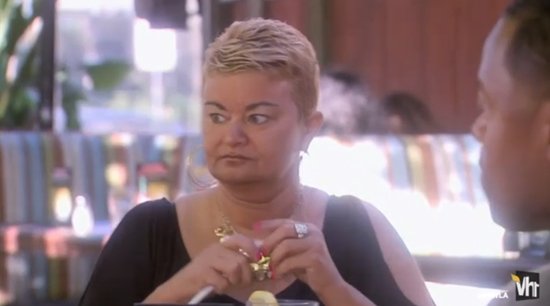 We hate to be rude, but Draya's mother looks like a toothless Gremlin. Where in the Appalachian hell did Draya's daddy find her at? And further more, why did he hit that RAW?
She over there lookin' like the troll under the bridge that used to terrify Billy Goat Gruff and his siblings.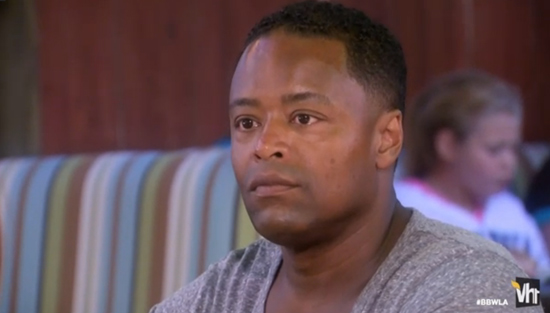 Meanwhile, Draya's daddy looked like the kid whose mama up and left him behind at the department store.
He never seemed to be tuned in to the conversation, but he sure did perk up when Draya talked about moving him out there.
He apparently wasn't there for Draya much in her childhood (which we already knew cause her ass wouldn't have ended up as a damn stripper if she had a daddy in her life) but Draya is hopeful that he'll make a great granddaddy.
Poor lil' Niko (Draya's son). That's too much fail to absorb in one gene pool.
Frankly, if Draya's parents do end up moving out to L.A., they'd probably make an amazing spinoff show a la Chrissy and Mr. Jones.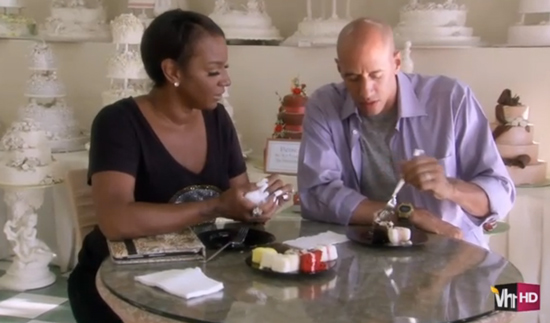 Jackie Plans a Gay Wedding for Her Husband
Just in case you needed a little more proof that Jackie Christie is off her rocker, this whole gay wedding she's throwing for herself and Doug should be all the evidence anyone needs.
Despite planning and hosting a wedding for herself every year for the past 17 years, Jackie STILL insists on doing things like cake testing, even though she's probably tasted all the damn cakes there are to taste in L.A.
She could realistically phone her order in and call it a day. But hey, this is reality TV, so Jackie makes Doug go down to the bakery and try out some damn cakes.
While they sit there nibbling on the baked goods, Jackie picks Doug's brain about whether she should or shouldn't invite the girls.
This whole conversation is pointless, because OF COURSE Jackie's going to invite them. How else will she earn her paycheck?
Nonetheless, Doug doles out common sense advice: Invite them if you want, but don't be mad if some of them don't show.
There must be some part of the puzzle that we're missing here, because Doug is cool, calm, collected and coherent. He's the exact opposite of Jackie. So how the hell did he hook up with the craziest bitch in L.A.?
After the cake tasting, Jackie and Doug get a preview of the live entertainment in store for their wedding: Gogo dancers.
Jackie is alarmed when she realizes that there's a female gogo dancer in the mix and not two men.
It's hard to know if Doug is disappointed, he seems so enthralled by the whole thing and he happily chirps that he likes "slutty," in response to the male gogo dancer's question on how he'd like them to dance.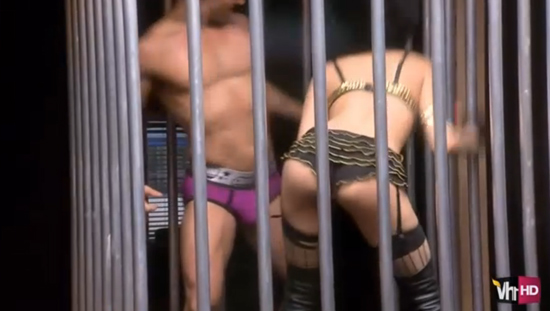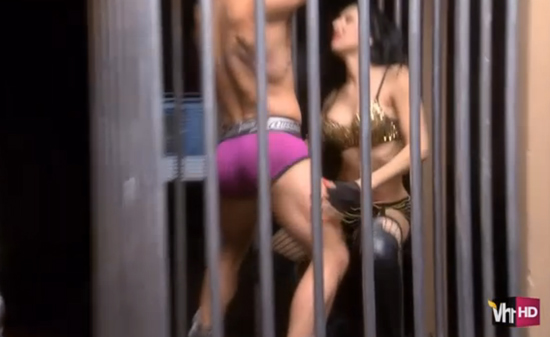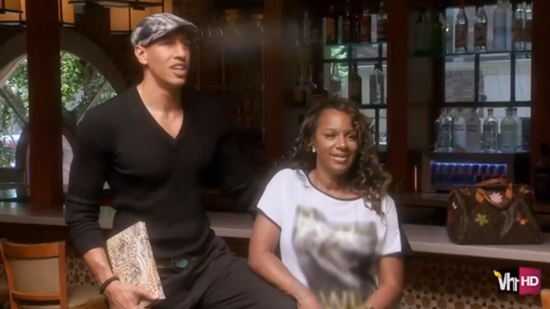 Awkward.
You know Doug's old NBA pals are gonna have a field day with this fabulous ball.
Be the first to receive breaking news alerts and more stories like this by subscribing to our mailing list.