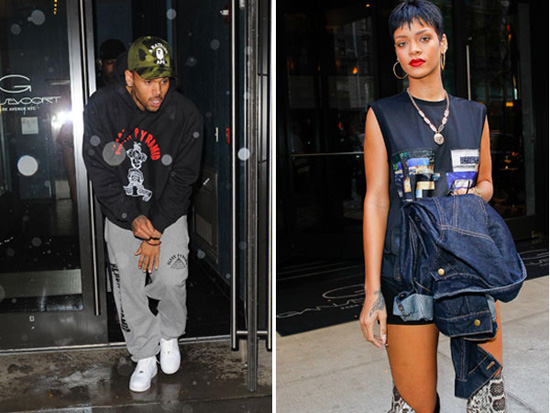 Chris Brown was photographed creeping out of the same New York City hotel where Rihanna is staying this week, prompting many to wonder: Did Chris Brown and Rihanna spend the night together?
The answer is clearly yes. And our friends over at Celebuzz have the exclusive details:
This coincidence follows Celebuzz's exclusive report that the twosome were "hugging and kissing" at celeb hotspot Griffin Monday night.

An eyewitness confirmed that Rihanna, 24, and Brown, 23, were seated at separate tables — two apart from one another — before he "climbed over the center to get to her."

Once Brown made his way over to his ex, he removed his shirt and started "dancing on the table for Rihanna," before the two began "dancing together and being very smitten," according to the source.

Rihanna and Brown certainly didn't hide their affection for one another as numerous people also witnessed the former couple kissing in the club.

Brown left Griffin first at approximately 3:50 a.m. with Rihanna following closely behind.
And in case you're still not convinced, here's some hardcore photographic evidence that Chris and Rihanna were partying at the same nightclub: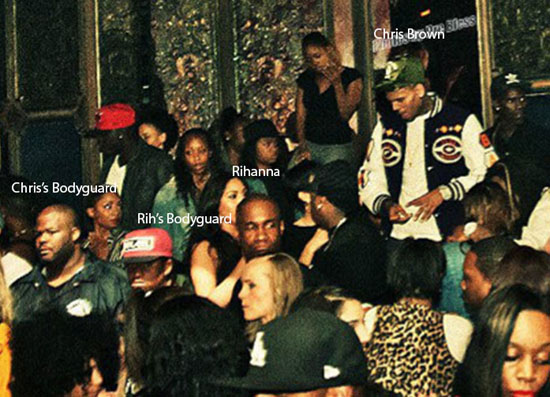 But wait, what about Chris Brown's girlfriend Karrueche? A rep for the nightclub confirmed that both Rihanna and Chris Brown, along with many other celebs — Dave Chappelle, Cassidy, Chris Rock and Tyson Beckford — were in attendance, but eyewitnesses say Karrueche was nowhere to be seen.
Poor Karrueche.
Be the first to receive breaking news alerts and more stories like this by subscribing to our mailing list.