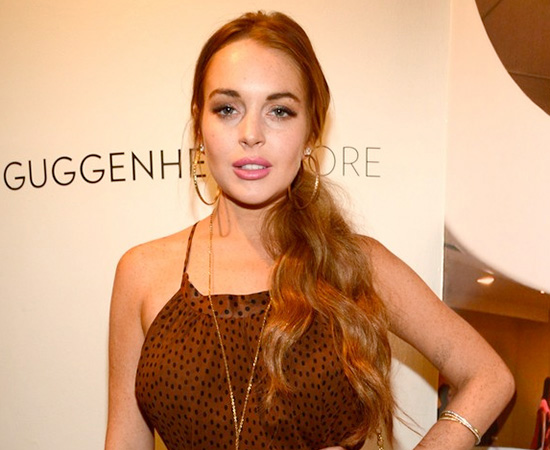 Lindsay Lohan is claiming she was assaulted in her NYC hotel room by a man she met at a nightclub after she confronted him about some pictures he had taken of her without her permission.
And TMZ has all the details on what went down:
According to our sources, Lohan told police she met the man at 1 Oak, a nightclub in Chelsea. Lohan said the two got into an argument later on in her hotel room after Lindsay noticed the man had taken photos of her on his phone. A few of Lindsay's friends were in the room at the time the photos were taken.

Our sources say Lindsay told police she confronted the man about the pics and he threw her on the bed causing scratches on her hands. We're told Lindsay ran out of the room, but returned later. When she did, Lohan claims the man attacked her, choked her, threw her to the ground, and climbed on top of her.

According to our sources, a friend of hers was able to pull the man off her. Lohan claims she pulled the fire alarm to signal for help and cops were able to arrive in time to arrest the man.

Law enforcement sources in NY tell TMZ the man was identified as Christian LaBella. He was arrested on two misdemeanor counts of assault and two charges of harassment.
The New York Police Dept. later dropped the charges against LaBella — who is from Los Angeles, but works in Washington, D.C. for Rep. John Shimkus (R-III.) and was visiting New York for the weekend, according to the NY Daily News.
Police sources said that the charges were dropped after detectives determined that there wasn't enough evidence to support Lindsay's claims.
Because the NYPD refuses to pursue any criminal charges against LaBella, Lindsay can only file a harassment complaint against him, and he filed his own harassment complaint against her too, however, neither of them will be required to appear in court.
Unsurprisingly, Lindsay's people are not happy with the way the NYPD is handling the situation.
"There is no question that Lindsay was assaulted," Steve Honig — Lindsay's publicist — told the Daily News on Monday (Oct 1). "It's disheartening that not much is being done about it."
Meanwhile, Christian LaBella — who, according to a separate TMZ report, is no stranger to celebs based on his prior interactions with them, as evidenced by the pictures he has all over his Facebook profile — has told relatives that he is "stunned" about the whole ordeal.
His uncle, Peter Jessop, told the Daily News, "He doesn't really understand why this is happening. It's a shame when a celebrity like that can use her publicist to tar a kid who has done nothing wrong."
Uncle Peter continued, "He didn't do anything to invite this … He was just out having fun, and Lindsay Lohan picked him out of a crowd at bar and said, 'You're coming with us.' I guess they had a friend in common."
Responding to claims that his nephew was the aggressor and he assaulted Lindsay, Uncle Peter said, "Every statement has her mother saying, 'Thank God he didn't have a weapon.' Of course he didn't have a weapon. He didn't do anything. And her publicist is saying she suffered injuries. She didn't suffer any injuries."
But Lindsay's publicist says, "That's a crock of sh*t, and you can quote me on that … The kid had to be pulled off Lindsay."
Lindsay Lohan has a history of lying to get herself out of sticky situations, so what makes this one any different?
Then again, this could be karma coming back for another round of whoop-ass. And she could very well be telling the truth, and because she's lied so much in the past, no one believes her.
Do you believe Lindsay's story?
Be the first to receive breaking news alerts and more stories like this by subscribing to our mailing list.