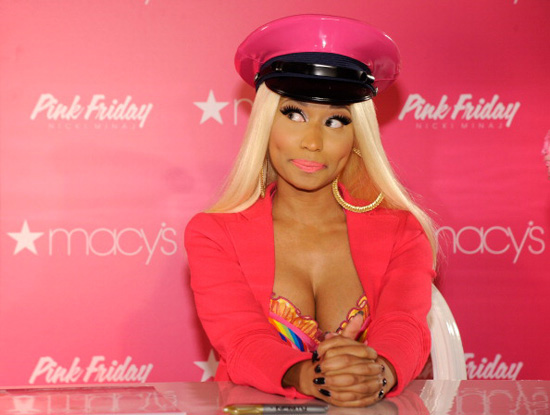 After dominating the Hip-Hop & Pop music charts, launching her own fragrance and scoring a $12 million judging gig on "American Idol" … what else could Nicki Minaj possibly take on next?
Reality TV, apparently.
According to an exclusive report from Deadline, the rapstress is working on a brand new reality show with the E! network — who is famous for its catalog of reality shows, most notably "Keeping Up with the Kardashians" (and its many spin-offs).
However, don't expect a full-fledge, 10+ episode reality series from Nicki.
"The plan is to do specials with her, not a whole series," a source close to the situation revealed to Deadline, adding that E! will air three Minaj specials in the fall, and filming for the specials has already begun.
Nicki teased the possibility of a reality show in a recent interview with Perez Hilton.
Asked if she was working on a separate project, in addition to Idol, Minaj coyly answered, "That I'm going to keep a secret for now," however she is "considering" the idea of a Kardashian-esque reality show.
"I thought I'd never do something like that, not saying I am still. I'm still considering. But, I will say that I find the more people see, is the more they understand, and then it's the more they like you. If you only have such one-dimensional things to go off of like rumors, then you kind of never get to know the artist. When you pull them in your world, they see you as a real person. I'm not running away from it anymore. I'm just like, 'You know what? This is my life.'"
Be the first to receive breaking news alerts and more stories like this by subscribing to our mailing list.