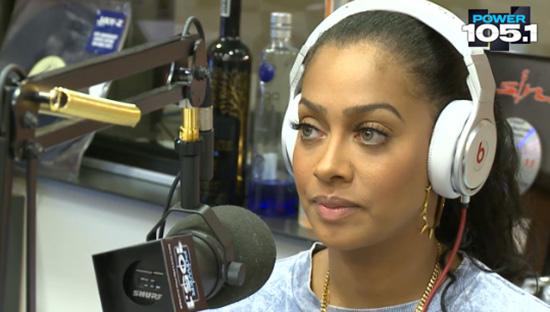 Lala Anthony is sick and tired of people calling her BFF Kim Kardashian a whore … and she let the world know that during a radio interview this morning.
Lala paid a visit to Power 105's infamous "Breakfast Club" morning radio show Wednesday (Sep 26) to give out some relationship advice and talk about how she's able to balance a successful career as a mother and REAL 'basketball wife.'
But the interview quickly turned into a new direction when a listener called in with a question for LaLa on how she deals with her best friend Kim Kardashian being a whore, which could be damaging to her reputation (The caller noted that they were in a similar situation).
Those weren't the caller's exact words, but Lala got the jist of what they were insinuating, and she didn't like it.
Her response?
First of all, We joke around and have fun but I am really starting to get a little tired of people calling her that to me because if I was calling your friend a whore you wouldn't like that would you?

No matter what people's perceptions are, I know my friend and I know her heart and who she is and she's not a whore. We are all grown now! I can't be responsible for what people think about other people, I go by how a person treats me and she's always been an amazing person to me.

As far as your situation is concerned, the same thing applies. We are all grown. If your friend has a bad rep, you can't take responsibility for what your friend does, so you shouldn't be grouped in that category because of what she does, you can only be responsible for your own actions.
The subject of hoes also came up earlier in the interview. When Lala asked Charlamagne who he considered a hoe, before he could respond, Lala said to him, "If you say it, I'm gonna punch you in your face," most likely because she's also good friends with him (he made several appearances on her VH1 reality show "Lala's Full Court Life") and knew that he was going to make a "whore joke" about Kim.
Lala later went on to give her definition of a whore or "hoe" as:
…someone who has no morals or values when they do what they do. So I think a hoe is breaking up [a home] — knows a person is married and is messing with him. I don't think a hoe is someone that sleeps around because if you are single and enjoying yourself, that is what you are supposed to do.
Peep the full interview below — the whore talk comes in at 3 mins and 14 mins:
Be the first to receive breaking news alerts and more stories like this by subscribing to our mailing list.