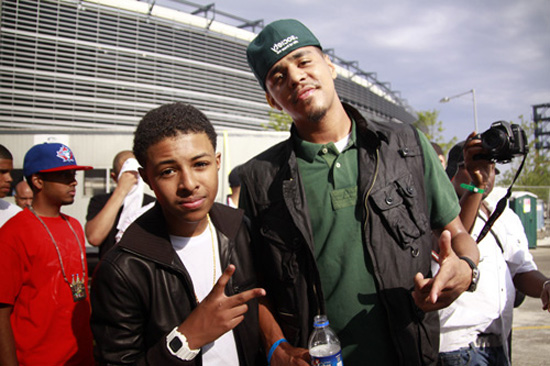 Okay, it's time for somebody to say it … J.Cole needs to get a f*cking LIFE! (Whew, we feel so much better now…)
During Kendrick Lamar's set on the BET Music Matters tour this past weekend, the Roc Nation rapper debuted a new verse taking shots at teen rapper Diggy Simmons.
In the middle of his performance, Cole rapped:
The game need balance/ Woke up this morning to the rumors of n*ggas wildin'/ Picture me hatin' on a young n*gga with talent /Album flopped but it's cool, he caked out on his allowance
Just a few months back, Diggy and Cole were said to have squashed their previous beef and walked away with no hard feelings towards each other.
But Cole's most recent below the belt punches proves the contrary … and it didn't take Diggy long to fire back with a few shots of his own. The very next day, he released a new track called "Falls Down" on "The Breakfast Club."
On the track, Diggy raps:
I guess I rattled you, snaggletooth, you know better / Thought J. stood for Jermaine, not Jetsetter

You see me and shook my hand, coppin' pleas in person / Now you act less than a man, mentioning me in verses

Man, you used to have dreams of my big sister kissing ya / Now it's nightmares of a little brother dissin' ya

Sneak disses and jabs, I don't really see the benefit, but I guess you lame enough, probably keep you relevant / Maybe you should sign with me instead of Mr. Carter / How you mad at me, I got a relationship with my father
Check it out below:
This is more of a joke than the Chris Brown-Drake brawl.
C'mon Cole World, we expect more from you!
Be the first to receive breaking news alerts and more stories like this by subscribing to our mailing list.