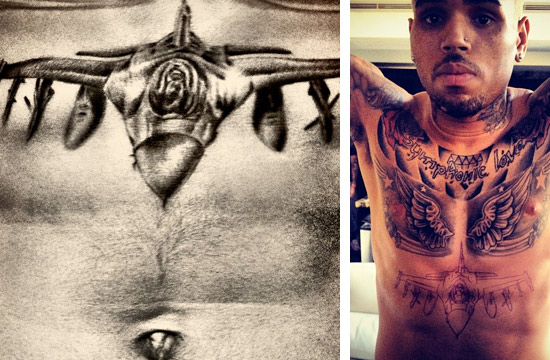 You know how bartenders will cut a person off if they're clearly going overboard with the shots of Patron?
They do this because clearly, said person is incapable of operating within common sense limits of alcohol consumption. Yeah, well, tattoo artists need to do the same with Chris Brown and his severe case of tattoo addiction.
After raising eyebrows with his sugar skull tattoo recently, Chris took to Instagram to show off another tattoo (seen above) of a fighter jet. MTV's Buzzworthy blog made the astute observation that the fighter jet tattoo is in the same place as Rihanna's Isis tattoo.
We can only take a stab in the dark as to the meaning of the tattoo, but perhaps the fighter jet represents Chris shooting all his haters down? You know Chris is always getting bothered and irritated by his enemies and provokers.
Aww, his and her tattoos. Rihanna and Chris are so in sync. Meanwhile, Chris Brown's supposed girlfriend, Karrueche, has been left outside of the tattoo circle once again.
Be the first to receive breaking news alerts and more stories like this by subscribing to our mailing list.