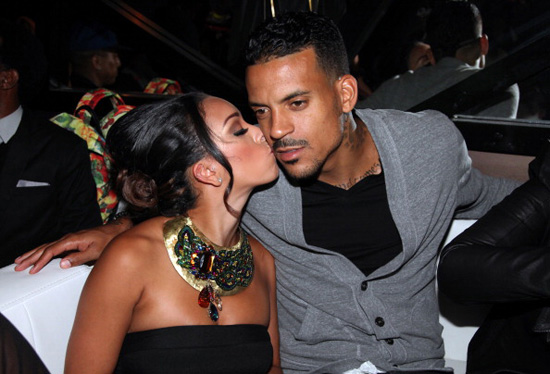 Don't expect to see Gloria Govan's on-again, off-again boyfriend/baby daddy/fiance/whatever Matt Barnes on any episodes of the second season of "Basketball Wives L.A." … because the NBA player says that being on the show last season ruined his relationship, and he doesn't want to go through that again this time around.
Matt dropped by Power 105's Breakfast Club earlier this week, and talked about getting back together with Gloria after taking an eight month break from each other, as well as how BBWLA put a serious strain their relationship, how he'll always love Gloria (whether they're "together" or not) and more.
Peep the highlights (via Necole Bitchie) below:
On Not Returning to Basketball Wives This Season:
I'm not on this season. We already opened up our relationship enough and we went through our drama last Summer so you know I fell back and let her do her thing and we're going to keep our situation a lot tighter this time around.

On Reality TV Hurting His Relationship:
Gloria and the kids mean everything to me.[…]There was things I did to previously hurt her, being young and dumb, but I think opening our relationship and family up definitely put a strain on our situation.

On Him and Gloria Taking an 8 Month Break From Each Other:
We both dated and talked to other people while we were separated and now we're bringing things back together.[…]It's always hard when you have some sort of celebrity behind your name and everything you do is in the media's eye or you talk or mess with other celebrities. It gets messy.

On Working Out His Relationship With Gloria:
It comes to a point where you wake up and realize what's important, you know? Women are out there for men, men are out there for women. It kind of goes back and forth but once you go through it enough and realize what's important, you wake up.

On If Reality TV Was a Distraction To His Career:
I was never too heavy into 'Basketball Wives' enough to cause me any distractions. Not to say Lamar [Odom's] show caused him distractions because you know everybody has a lot on their plate, but I don't think teams look to highly on reality shows. Especially the reality shows that are out now.

On Twitter Beefing With Other Guys Who Claim to Have Hooked Up With Gloria:
No matter what, whether we're together or not, I'm always going to love her. She's always going to be the mother of my children. I'm not going to let anybody disrespect her.
Be the first to receive breaking news alerts and more stories like this by subscribing to our mailing list.