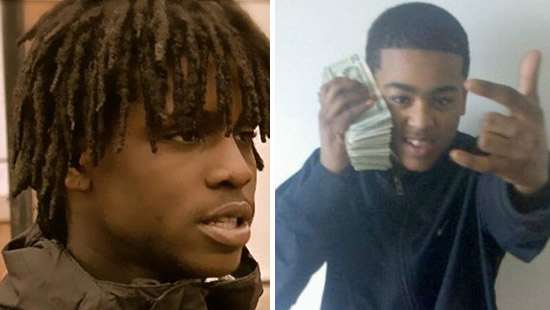 Chief Keef is in serious damage control mode after a series of tweets of him laughing at the death of young rapper Lil JoJo went viral.
Amid last week's firestorm, Chief Keef tweeted that his account had been hacked, and on Saturday (Sep 8), the up and coming Chicago rapper specifically denied that he had sent out the insensitive tweets about rival rapper Lil JoJo, who lost his life to gun violence last Tuesday (Sep 4).
According to the Chicago Sun-Times, 18-year-old Lil JoJo, whose real name is Joseph Coleman, was gunned down in the Englewood neighborhood of Chicago. He had reportedly been engaged in a running war of words with not only 17-year-old Chief Keef, but also Keef's associates, including fellow Chicago rapper Lil Reese.
The Sun-Times also reported that Coleman had also been beefing with a local street gang, the Black Disciples, and Chicago police are investigating whether his death was connected to that.
Meanwhile, Chief Keef (or a member of his newly acquired PR team, cause this kid DEFINITELY needs one) wants the world to know that his Twitter account was "hacked." and he had nothing to do with Coleman's shooting death. In a tweet which he later deleted, Keef (real name: Keith Cozart) said:
"I didn't know him but he young jus like me. I can assure everyone that i had nothin 2 do with this tragedy tho. my twitter acct was hacked."
 Do you believe Chief Keef's Twitter account was really hacked?
Be the first to receive breaking news alerts and more stories like this by subscribing to our mailing list.