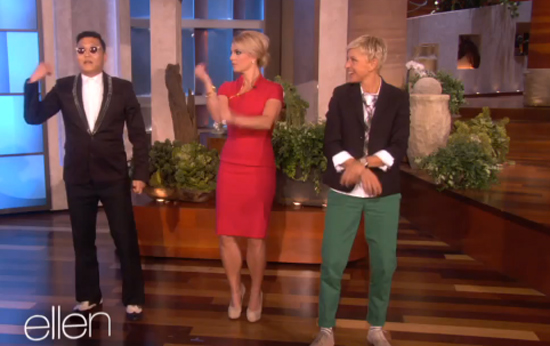 The hottest dance craze to sweep the nation since LMFAO's "Party Rock" is definitely PSY's "Gangnam Style."
Amazingly, the lyrics in PSY's hit, which is sung entirely in Korean, make about as much sense as LMFAO's. We kid, we kid! (Sort of.)
Anyway, apparently Britney Spears is a big fan of PSY's viral hit. And somebody must have tipped her off that PSY would be paying a surprise visit while she was on Ellen promoting the "X Factor" with Simon Cowell, because she was dressed like a Chinese dumpling food runner.
She even put her weave up in a Chinese bun. How u like?
After PSY came out from behind the curtain thrusting and horse riding, which we have to say struck us as a bit coonish, he offered to teach Britney and Ellen his mesmerizing moves.
Now, given the fact that Britney Spears has pretty much made her career as a dancer, you'd think she'd pick up quick on PSY's routine. But nope, she fumbled her way through the whole thing embarrassingly off beat.
Maybe it was because she had on major high heels. Or maybe it's because she's still heavily medicated. Who knows. But it was fun to watch.
Watch Britney and Ellen try out their Gangnam Style with PSY below:
Be the first to receive breaking news alerts and more stories like this by subscribing to our mailing list.