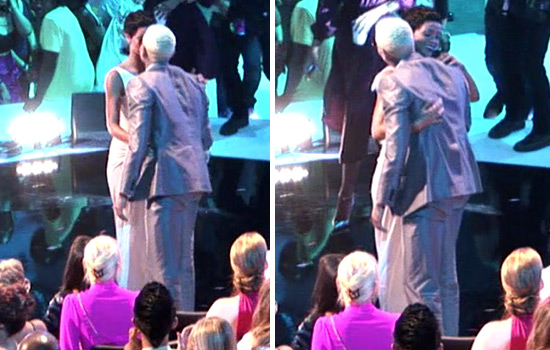 The 2012 MTV Video Music Awards was full of surprises … but nothing was more surprising than when Rihanna and Chris Brown hugged and kissed each other in their first public appearance together in over 3 years!
The unaired moment was captured on one of MTV's many "All Access Live" cameras. As Rihanna was making her way to her seat, after accepting her Video of the Year award for "We Found Love," she spotted Chris Brown.
Upon noticing Rihanna, Chris stood up, and the two quickly hugged each other, before she walked over to greet and hug Bu Thiam (Akon's brother) — VP of A&R at Def Jam, Rihanna's label. Then Rihanna rubbed Chris' head and walked back to her seat.
A screenshot of the embrace between the former couple was immediately posted all over Twitter and Instagram. This is the first time Rihanna and Chris have acknowledged each other in person since the infamous February 2009 beating incident the night before the Grammys.
Now everyone naturally wants to know whether their gesture was simply a friendly one, or if this means that they will be getting back together one day soon.
Rihanna and Chris Brown have been rumored to be getting back together for some time now, ever since they recorded two songs together earlier this year. And the rumors were fueled by Rihanna recently telling Oprah that she was still in love Brown, calling the singer, "the love of my life."
Be the first to receive breaking news alerts and more stories like this by subscribing to our mailing list.