There has been a vicious rumor going around about America's favorite redneck kiddie beauty queen, Honey Boo Boo.
Word on the street is that Honey Boo Boo and her family are grossly underpaid by the producers of her hit TLC reality show, "Here Comes Honey Boo Boo."
It all started with a report from The Hollywood Reporter, which alleged that 7-year-old Honey Boo Boo (real name: Alana Thompson) and her family were only making $2,000-$4,000 per episode. This despite the fact that the show scored more than 3 million viewers for its Aug. 29 episode.
The idea of Honey Boo Boo earning so little after giving us so much is heartbreaking. At that rate, Honey Boo Boo would never be able to reach her full ghetto redneck potential.
But then again, perhaps Honey Boo Boo set herself up to be sold cheaply when she proclaimed, "A dollar makes me holler!" Guess TLC figured they were being generous, given that.
But hold up, wait a minute. Let us put some hot sauce in it.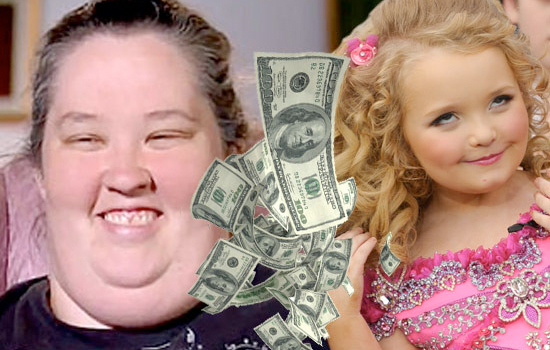 Honey Boo Boo's mama, June Shannon (aka "Mama June" or "The Coupon Queen"), clapped back at the assertion that they were underpaid in an exclusive interview with TMZ:
When we spoke with June she laughed out loud at the report saying it was wrong, making it clear her family is raking in a good deal more — though she would not be specific.
While June didn't give specific figures, we're inclined to believe her. Cause the $2,000-$4,000 would not be enough to buy her and her family the regular Red Lobster dinners that you know they love. Can't nobody resist them cheddar cheese biscuits.
We'll know if Honey Boo Boo's family has really made it when Honey Boo Boo starts rocking a Kim Zolciak wig on the regular and puts out her own clothing line. Those are the ultimate signs of bougie affluence in Georgia.
Be the first to receive breaking news alerts and more stories like this by subscribing to our mailing list.