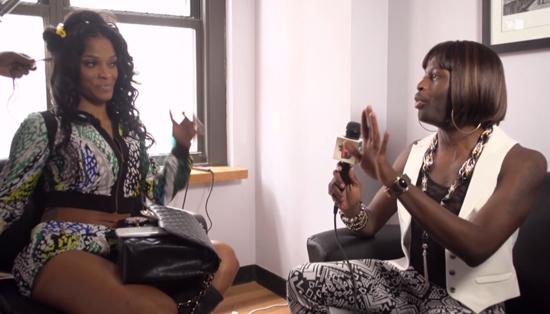 Some interviews go down in history for the awesome levels of ratchetness they generate. Like when Wendy Williams went toe to toe with Whitney Houston in 2003.
"Love & Hip Hop Star" Joseline Hernandez sat down with her equivalent of a Wendy Williams when she sat down to chat with YouTube personality and cross-dressing superstar Funky Dineva.
For those who want a quick crash course on who Funky Dineva is, he's a black man with a full-on beard who wears an assortment of wigs and spontaneously bursts into Nicki Minaj-esque voices while he gives recaps of reality TV shows like LAHH ATL.
VH1, being the social media savvy folks that they are, plucked Dineva from the Interwebz and decided to bring Dineva's talents in-house for the reunion special and they provided his royal highness with exclusive access to the show's stars.
While Joseline was getting her hair did, she hammed it up with Dineva, who didn't hold back in admitting that he was ambivalent about her in general and called her a ho to her face.
But he lived for her attitude so by the end, the two were pretty much BFFs. NO SHADE HERE, BOO!
Watch Joseline's interview with Funky Dineva below:
Be the first to receive breaking news alerts and more stories like this by subscribing to our mailing list.