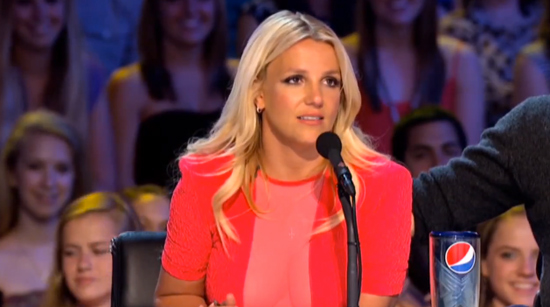 It was only 5 years ago when Britney Spears shaved her head in public and attacked paparazzi with umbrellas. But whoa, what some strong prescription pills, tough love from daddy and a conservatorship will do to turn a girl's life around.
Earlier this year, in a surprise move to outdo NBC's "The Voice" … Simon Cowell miraculously landed pop star Britney Spears as a celebrity judge on his fledgling singing talent show the "X Factor," which so far has failed to outperform his former show, "American Idol."
The big question on everyone's minds when Cowell announced that Spears would be joining the U.S. version of the X Factor, was whether Britney would be capable of giving the kind of off-the-cuff commentary that judges typically give on the show.
Since she emerged from her disastrous public meltdown, all of Spears' media appearances have been tightly scripted and controlled affairs. But with live TV, Spears' handlers will have to let go and let God take control.
Well, worry no more. In a promo for Spears' presence on the show, Britney appears intelligible, lively and most importantly, cognizant of her surroundings.
Watch Britney Spears do her thing on the X Factor below
Good job, Team Spears. Robo-Britney's autopilot is working marvelously!
But oops … it appears that Britney's new attitude and look bear Mr. Cowell's paw prints. The New York Post says Cowell stepped in and told Britney to get her shit together and put away her white trash fashion sense when she showed up at an audition not wearing a bra.
Sources said that after Spears turned up at one early taping appearing to not be wearing a bra, "It was made clear she is expected to be impeccably dressed and made-up for the show. And none of those ragged hair extensions." While "X Factor" reps deny Cowell ordered the singer to sack her stylist, sources tell us she's since turned up looking amazing.
While Simon was right to check Britney, he sure is one to talk given the fact that he could stand to wear a bra himself.
The X Factor is set to premiere on September 12th at 8 pm EST on FOX.
Be the first to receive breaking news alerts and more stories like this by subscribing to our mailing list.