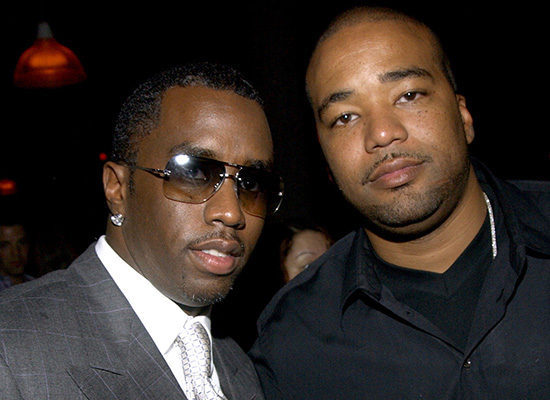 Hip-Hop mogul Chris Lighty was found dead behind his home in New York City Thursday morning (Aug 30) after he reportedly shot himself in the head an apparent suicide.
New York City police sources said that the 44-year-old Hip-Hop industry veteran — who was a longtime manager of rappers 50 Cent, Diddy, Ja Rule and even R&B singer Mariah Carey — stepped outside of his apartment in the Bronx after at around 11:30 am an argument with his wife.
A gunshot was heard, and Lighty was found lying faceup with a .9 mm pistol next to his body, and a self-inflicted gunshot wound to the head. He was pronounced dead at the scene. Officers were unable to locate a suicide note.
Lighty and his wife Veronica were estranged, following her filing for divorce last year. They married in 2003, and have a 6-year-old son named Jaden.
In addition to a broken marriage, law enforcement sources believe that Lighty was also dealing with financial struggles, including a $5 million debt he had with the IRS.
Having been a part of the music industry for decades, working with pioneers like LL Cool J … Chris went on to start his won management company Violator Management, whose roster includes 50 Cent, Diddy, Missy Elliott, Mariah Carey, Busta Rhymes, Fantasia Barrino and many other top recording artists.
Lighty was known to not only help his clients attain hit records, but also lucrative careers outside of the music business.
Showing his impact on Hip-Hop culture and the music industry as a whole, a number of celebrities have taken to Twitter to pay their respects to the Hip-Hop vet.
Diggy Simmons: "Still in shock.. More than just my manager but my family. Love you and gonna miss you Chris. R.I.P"

Rev Run: "R I P to the kindest guy Chris Lighty. Thank you for being a manager to Diggy & a part of our family.. You are loved & will be missed"

Diddy: "R.I.P. Chris Lighty. He Was A Dear Friend Of Mine And I Still Can't Believe It."

Rihanna: "Rest peacefully Chris Lighty, my prayers go out to family and loved ones! Dear God please have mercy"

Nicki Minaj: "Another tragic & inconceivable loss for the culture. #RIPChrisLighty"

Soulja Boy: "R.I.P my manager Chris Lighty, I know you're in a better place. this shit got me so fucked up big bro we just talked on the phone 2 days ago"

Ludacris: "R.I.P. Chris Lightly who always had the best energy every time I had an encounter with him. He will be missed"

Game: "R.I.P. to my old friend "Chris Lighty". Tragedy has once again struck the music industry & this time it hit close to home. Chris was a good dude, honestly…. A father, husband, mogul & a great business man. May his soul rest & many condolensces to his immediate family & children. Love"

Fat Joe: "I Would Be Nothing Without YOU!!! My Kids Appreciate YOU God Bless Chris Lighty"

Nick Cannon: "I'm devastated right now. I can't believe my big brother Chris Lighty is gone… He was a pioneer, a mentor, and a great friend RIP"