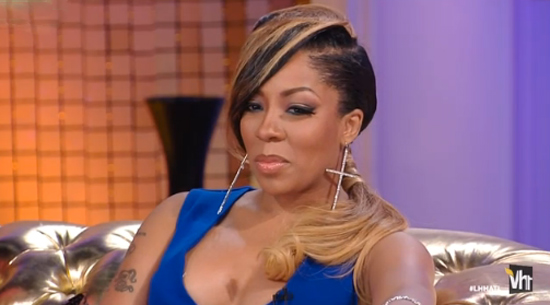 After a spectacular debut season, the chickens, pigeons and other barnyard animals of Love & Hip Hop Atlanta gathered to rehash drama, squawk at each other and tug on a few weaves.
And K. Michelle — the biggest, loudest, angriest hen in the chicken coop — got the party started right away as she went off on Karlie Redd for any and every little thing. The reunion opened with a fan question about Karlie Redd's real age and K. Michelle was quick to pounce.
Poor Karlie Redd's battleship was sunk so fast, she didn't even realize she was treading water.
WATCH: "Love & Hip-Hop Atlanta" Episode 11 (Reunion – Part 1)
The jokes about Karlie being ancient and a Harriet Tubman bitch had EVERYBODY in stitches. Lil' Scrappy looked like he was about to slide off the couch from laughter at one point. And K. Michelle unearthed a secret: Karlie Redd has a daughter.
Her former flame Benzino didn't utter not one peep in her defense either. Even when she got up to fluff her allegedly fake butt in an effort to prove that it was made of flesh and blood, and not silicone and fix-a-flat.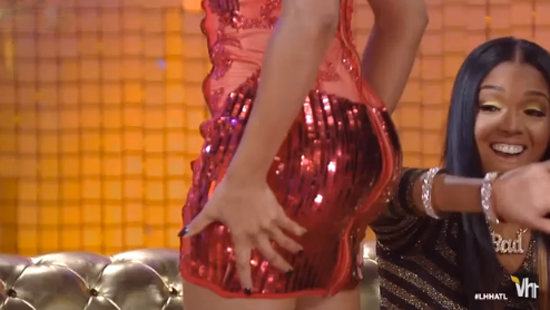 Poor Karlie Redd has no friends. At all. But she was trying her damnedest to act like she and Rasheeda were BFFs.
Just because Rasheeda and Karlie have an enemy in common, doesn't mean that they're close. Did we ever even see these two utter one word to each other during the whole season? No, but there Karlie was running off the stage with Rasheeda after the perpetually "underground rapper" tried to get all up in K. Michelle's face.
Thank God for K. Michelle because our ratchet levels would probably drop to dangerously low levels without her hoodrat madness.
Round 1: K. Michelle and Rasheeda Pop Off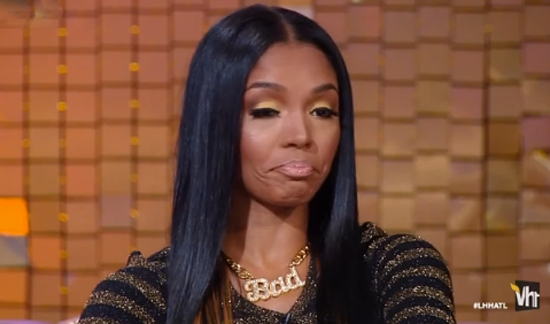 One of the biggest points of contention throughout the reunion centered on Rasheeda's allegations that K. Michelle was lying about the abuse she experienced at the hands of Memphitz. At this point, y'all already know the deal about what K. Michelle is alleging. But the goods that she's selling, Rasheeda ain't buying.
Rasheeda summed up her skepticism about K. Michelle's woe is me act by saying, "Something don't make no damn sense."
K. Michelle clapped back by saying that Rasheeda doesn't understand that her career was put on hold because of Memphitz. She had to break her record deal because of him and she wasn't dropped from her label like Rasheeda was.
Bam! Right in the kisser. K. Michelle got her good with that one. You know Aunt Deb was in the audience laughing her ass off when she heard that.
But the fight went even further with the personal jabs when K. Michelle accused Rasheeda of embarrassing her husband on national television. (Truth)
Rasheeda retorted, "Let me tell you, a husband is something you want, something I have." (Also truth)
Then things got really heated when Rasheeda insulted K. Michelle's hair texture and K. Michelle said she had bags under her eyes.
Security had to escort the Boss Bitch off the premises once she knucked and bucked in K. Michelle's face. Who knew that old dog had all that fight in her? Even Kirk looked surprised to see the pitbull come out of his woman.
Round 2: Lil' Scrappy and Erica Go to War with Stevie J and Joseline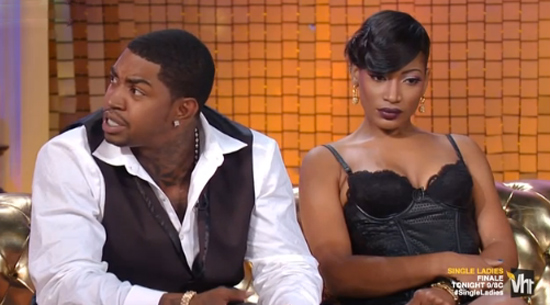 Of all the fights on Love & Hip Hop Atlanta that made no damn sense, the one between Lil' Scrappy and Stevie J made the least sense. Essentially, this was a battle over the honor of Scrappy's baby mama, Erica Dixon.
Ponder this for a second. Scrappy is breaking out into fisticuffs with another man over a woman he impregnated but didn't care to wed. It's a little late to try to play the knight in shining armor, sir. If Scrappy was interested in preserving Erica's dignity, he would've put a ring on it when he was supposed to.
Nonetheless, Scrappy and Stevie got into a disagreement over the fight, with Stevie saying he shoved Scrappy into the bushes and Scrappy insisting that he put his "paws" on Stevie.
Erica and Joseline traded "bitch"-es and it all got out of hand. Even Momma Dee was stressed out about it and she told the producers that they needed to move on to another line of questioning. Her baby is on probation and the last thing he needs is to land back in jail.
But Momma Dee, who stepped to the stage wearing a bedazzled jacket with shoulder pads, did address why she felt it was important that Scrappy step to Stevie J in the first place, saying that since her son is the prince, and she's the queen, and that her "castle" needed to be kept in order.
Who crowned her the queen of the Popeye's parking lot? And she got royal titles for herself and her son, but what's Erica? The court jester?
Round 3: Stevie J, Mimi, Joseline and the Mess In Between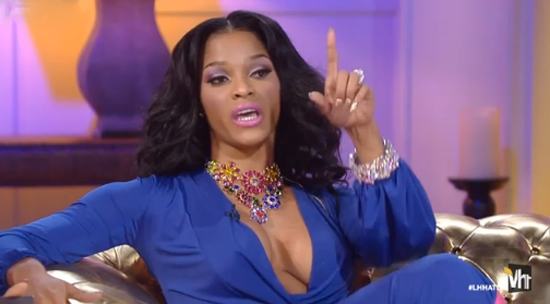 The nation's filthiest love triangle got the most airtime in this first part of the Love & Hip Hop Atlanta reunion.
First, all of Joseline's dirty laundry was aired when they brought up her alias, Shenellica Bettencourt. She copped to using the pseudonym, and charged her more than 20 arrests to the strip game.
She also had Love & Hip Hop Atlanta producer Mona Scott-Young vouch for her womanhood, since Mona saw her completely naked and verified her pregnancy test. So chew on that, suckers.
Truth be told, the Joseline is a man commentary never really made much sense. Yeah, she has a hard jawline and an artificial body, but if that's the standard for suspecting a woman's gender, then why haven't we called Lil' Kim's chopped and screwed body into question?
But back to the love triangle. Stevie, Mimi and Joseline did battle with each other for a good 20 minutes.
Poor Joseline tried her best to make Mimi her ally (she even said she loved Mimi…), but Mimi absolutely refused to recognize any common ground between her and the fabulous Ms. Hernandez.
When Joseline tries to say that Stevie did Mimi just as dirty as he did her when he tried to deny paternity of her child, Mimi shut that down with the quickness, saying "No, he didn't" vigorously.
Mimi will never, ever shake Stevie off, even if Ariane wishes she would, and she admitted that while the two weren't currently seeing each other, that she'd never completely close that door with him since he is her baby's daddy. Guess that means he has a lifetime guarantee to smash.
You know what they call it when you do the same thing over and over again but continue to expect different results? Insanity.
Mimi tried to stiffen her neck and ball so hard a few times throughout the discussion, like when she warned all of the mean folks on Twitter to stop judging her life.
Ok, that would be a lot easier if she didn't broadcast it on a reality show. So, she can put that in a box to the left alongside her dignity and self-respect.
The biggest laugh from the segment though, came when Joseline proclaimed that she was a woman of God.
Now, look, God loves all his children but Joseline is much more of a spawn of Satan than a child of God. And that's not necessarily a bad thing.
We all have that devil on our shoulder along with the angel on the other.
Joseline brings the right kind of hot sauce to Love & Hip Hop Atlanta and we wouldn't have it any other way.
Be the first to receive breaking news alerts and more stories like this by subscribing to our mailing list.