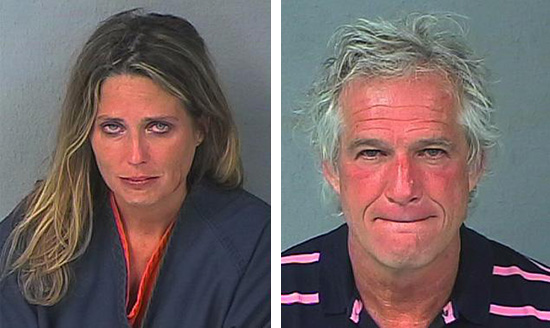 But wait, isn't that what the life of a swinger is all about? Having sex with other people? This is so confusing.
A swinger couple from Florida was arrested and charged with domestic battery after police say they "got naked, fought naked and stayed naked after law enforcement arrived."
According to Hernanando Today:
The female suspect was mad her boyfriend was having sex with another woman while the male suspect lost his temper about his girlfriend being in bed with two men, according to the Hernando County Sheriff's Office.

Tempers flared and the woman suffered a bloody lip and the man sustained scratch marks on his neck and back, deputies said.

The three other people participating in the apparent swinger's party had left the house by the time authorities arrived, according to reports.
39-year-old Tina Michelle Norris and 56-year-old James Albert Barfield were arrested and booked early Sunday morning at the Hernando County Jail on domestic battery charges.
Norris was also charged with an additional count of resisting arrest, Hernando Today reported.
Deputy Cari Smith interviewed both Norris and Barfield, both naked, and pointed out that Norris was "very intoxicated and uncooperative," and the couple refused to put on their clothes.
Norris kept telling Smith her boyfriend had beaten her up, and she was "bleeding everywhere," however, Deputy Smith stated, "She was NOT bleeding everywhere and only had blood on her lip."
A male officer, Deputy James Devorak, assisted her with the arrest … for obvious reasons.
The couple's roommate, who told police that she was awoken by their screams, said she had no idea what started the fight, and that they had a "weird relationship."
The roommate told the deputy she was sleeping alone in a spare room when she heard yelling and screaming in the hallway, according to reports.

She got out of bed and saw Norris and Barfield "pushing and shoving each other from one end of the house to the other (while) breaking things in the process," Smith wrote in her affidavit.

The witness said she pulled Barfield off Norris, at which time Norris went after her boyfriend. This continued several more times before the couple separated and went into separate bedrooms, deputies said.

"(The witness) stated that she did not see how or what started the argument, but (said) both (Norris and Barfield) were equally aggressive to each other," Smith wrote.

The same witness also told deputies the couple had a "weird relationship," according to the sheriff's office.
Both suspects are reportedly being held at the county jail without bond.
Be the first to receive breaking news alerts and more stories like this by subscribing to our mailing list.