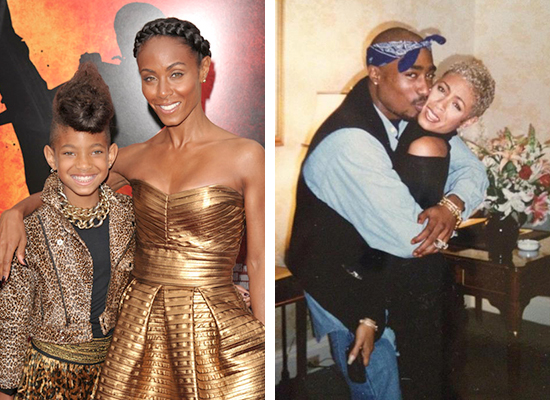 Willow Smith has previously admitted that Tupac Shakur is her favorite rapper, even though he died years before she was even born. And she recently used her Instagram account to share a picture of letter that she wrote to the late emcee a couple of years ago.
"Lookie Lookie, what I found, I wrote it YEARS ago," she tweeted along with the picture (below).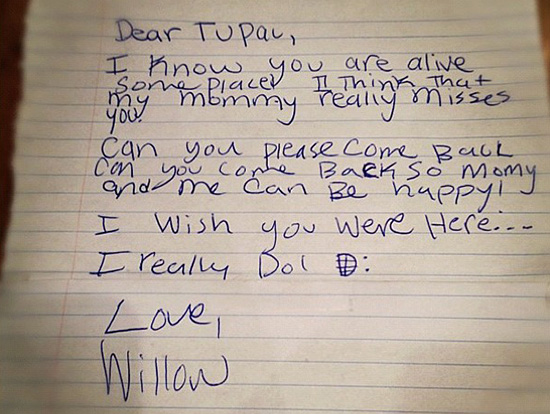 Just in case you can't read Willow's chicken-scratch handwriting (let's hope/pray she doesn't write like that now!), check out the transcription below:
Dear Tupac,

I know you are alive someplace! I think that my mommy really misses you.

Can you please come back can you come back so momy and me can be happy!

I wish you were here… I really do!

Love, Willow
In case you didn't already know, Tupac was really good friends with Willow's mom Jada Pinkett Smith. The two of them went to high school together, and were inseparable ever since, up until he was gunned down in Las Vegas in 1996.
Tupac and Jada were so close, in fact, that many believed that they were more than just friends … and Willow's letter — which she admits was written years ago, when 'mommy was unhappy' — does nothing but rehash those rumors.
We wonder what daddy Will Smith thinks about this…
What do you think?
Be the first to receive breaking news alerts and more stories like this by subscribing to our mailing list.