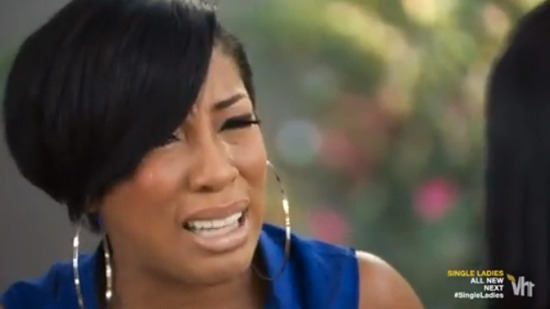 There is drama all up in these ATL streets, shawty. Episode 9 of VH1's explosive, urban hot mess "Love & Hip Hop Atlanta" saw plenty of tears, struggles and frustration. But the woman with the most Niagara Falls streaming down her face was definitely K. Michelle.
Her drama is a little convoluted since much of what fuels her angst and bitterness happens off camera. In short, a record label exec, Memphitz, used to date K. Michelle and helped her with her major-label deal with Jive Records. This same man is now married to Lil' Wayne's first babymama, Toya Wright, who happens to be a close friend of Rasheeda's. The problem is that K. Michelle is now alleging that Memphitz physically and emotionally abused her.
And K. Michelle is airing all of her dirty laundry out there so everyone in ATL can get a good whiff.
But damn, wasn't nobody prepared for the ghetto masterpiece theater that K. Michelle dropped on us this episode with her one-woman interpretation of For Colored Girls.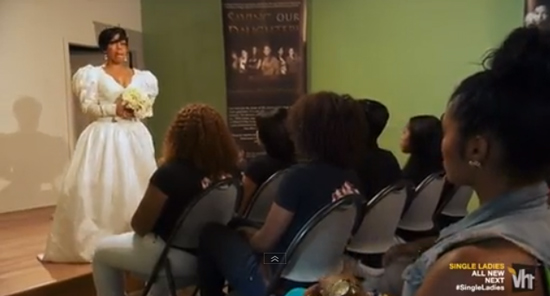 The funny thing is this is probably the only time K. Michelle will ever get to wear a wedding dress with her ratchet, man-repelling ass. So she better enjoy that David's Bridal moment for life.
We're not gonna try to cast aspersions on K. Michelle's domestic violence accusations. It's between her and God as to whether she's telling the truth or not. But it wouldn't surprise us to learn that she's embellishing a little here and there.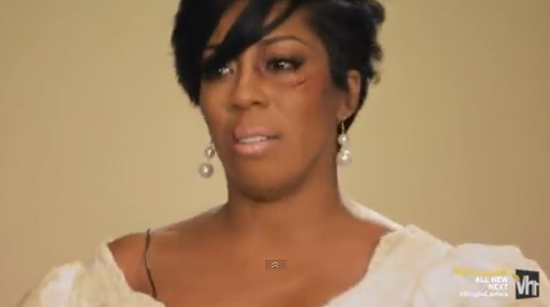 First off, dressing up as a battered and bruised bride is pretty nervy of K. Michelle. Last time we checked, she sure as hell wasn't Memphitz's wife or even fiancee. So why is she trying to ante up the drama with all of this false imagery?
What makes K. Michelle's story even harder to believe even more is all of the forced hysterics. The emotional abuse is probably true. But you can tell that K. Michelle is acting through all of her "breakdowns" in this episode. Is this because she made up all of the abuse, as Rasheeda alleges? Or because she's obsessed with having a Rihanna moment?
Whatever the motive, Rasheeda made it clear that she was not here for K. Michelle's "Not Gon' Cry" routine.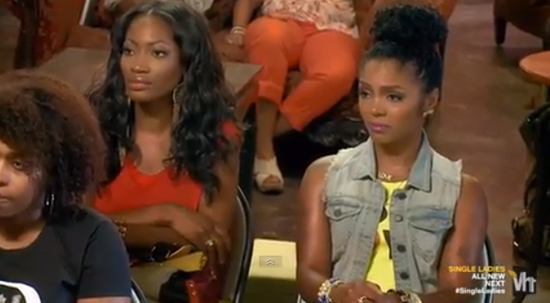 Rasheeda's face had, "Bitch, get the f**k outta here with that bullshit" written all over it the entire time K. Michelle was putting on her one-woman play.
For some strange reason, K. Michelle carried on with this shouting and crying routine later when she invited Rasheeda out for lunch in some fancy garden spot to "talk" about how Rasheeda felt about her past with Memphitz. Is she looking for Rasheeda's approval or what?
If she is, she ain't gettin' it. Rasheeda straight up told her, Memphitz probably didn't do those things to you, K. As you can imagine, that didn't go over so well with the ATL's biggest drama queen.
What probably stung K most is that Rasheeda said it in that voice that people use when they talk to toddlers or special ed students. Take your pick as to which label better suits K. Michelle.
In the end, K. Michelle left mad as hell and weeping like someone told her all of the extra virgin Brazilian hair was sold out at Wigs 'R' Us. Rasheeda, on the other hand, just looked like she felt sorry for this 20-something pile of hot mess full of hot air.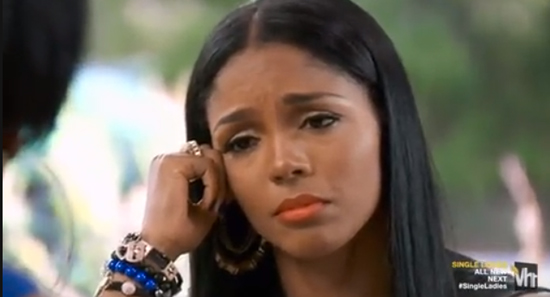 That bitter and single struggle is real, y'all.
Joseline and Mimi's Stevie J Addiction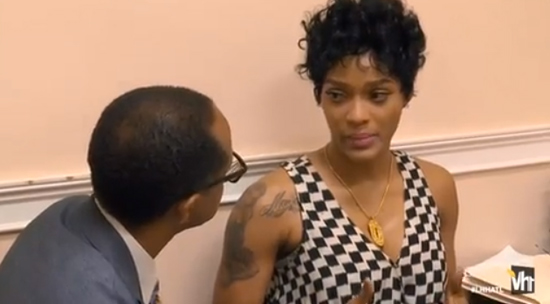 Meanwhile, back in the ratchet love triangle from Ricki Lake hell, Mimi and Joseline were still trying to put the pieces back together after Joseline put the smackdown on little man Stevie J. Once the fists of fury went flying, Master Splinter hit the road and didn't come back, but Dr. Jeff did take the opportunity to consult with Joseline and Mimi one on one.
Mimi was inconsolable over the realization that Joseline and Stevie were still fucking. Da hell? Did she really think Stevie gave up hitting that sweet pupusa? Does Winnie the Pooh give up his honey pot? She crazy.
But more interesting was the soul-searching session that Dr. Jeff did with Joseline. He dug into her childhood, and interestingly, Joseline's story seemed to echo Mimi's.
Like Mimi, her mother abandoned her as a child. And like Mimi, at 13, she was forced to become independent. And like Mimi, Joseline just can't say no to Stevie J. Clearly they share the same spirit animal.
Throughout the rest of the episode, various characters were pulled in for one-on-one advice sessions on this tangled love triangle. Joseline calls on struggling recording artist Karlie Redd for words of advice. The two have buried the hatchet between them (at least for this episode) since they're spending more time with each other at Benzino's house, where Stevie is apparently crashing.
In an obviously staged-by-VH1 scenario, Joseline and Karlie meet up at a rock climbing facility. Yes, because that's what black women do in their free time. Go rock climbing.
The two dish and gab about each other's relationships and Karlie, as usual, doesn't really add much to the conversation. But she was enjoying every drop of tea that Ms. Joseline was spilling during their gab session.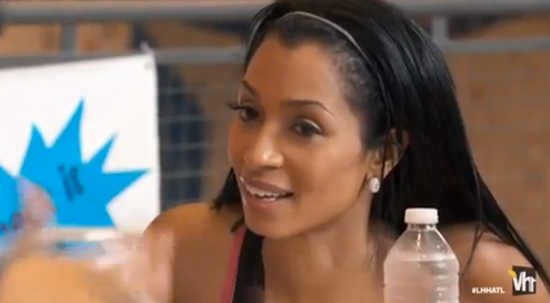 In a strange twist, Benzino decides to offer a shoulder that Mimi can cry on a seemingly random whim. Up until now, Benzino's been Stevie's ride-or-die wingman, toasting to Stevie's admirable womanizing ways. But now, Benzino insists that he loves both Mimi and Stevie so he'd rather not be in the middle of their fights.
Huh? But how does that work when you're housing Stevie and his mistress in your house while they f**k each other's brains out? With "friends" like these, Mimi really doesn't need enemies. But hey, this is reality TV and there's an hour to fill, so off Benzino goes to the "car wash in the hood" (his words, not ours) to catch up with Mimi. Stalker alert.
The two hug it out and get to talking about Stevie, and Benzino pretty much advises Mimi to just let the whole thing be bridge under the water. After all, it's just ONE woman that's coming between her and Stevie, and he's seen way worse. Chicken nugget man say what?!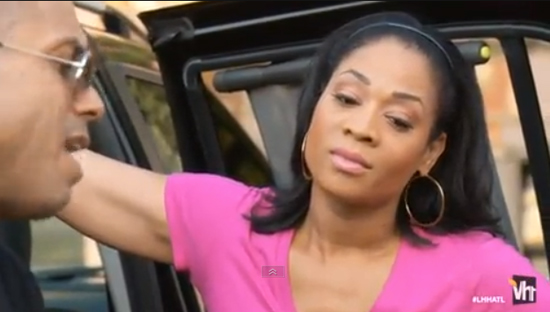 The worst part: Benzino accidentally calls Mimi by Joseline's name, which sets Mimi off like a firework. Try again, Zino.
Scrappy Has 99 Problems But Momma Dee Has One: Spelling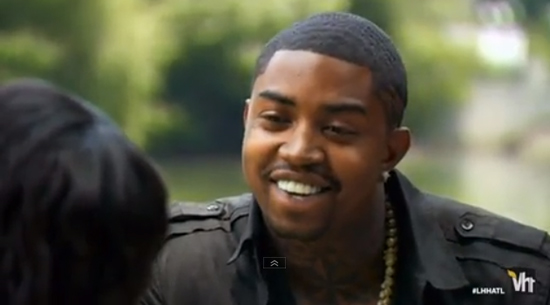 For the millionth time, Erica and Lil' Scrappy meet to discuss the state of their relationship. Even though Scrappy called things off and moved out of Erica's house, he's still texting Erica to say that he loves her and wants to be with her…eventually.
But that's gonna be tough to do, since he's walking around town with Shay on his arm. Erica confronts Scrappy about his new boo thang, but Scrappy smirks and insists that Shay is just his friend. Yes, a friend who jerks him off and gives him head when he gets an asthma attack. Ain't nothing wrong with that.
Erica, being the sharp cookie that she is, doesn't buy the expired produce that Scrappy is selling, so Scrappy leaves their meeting sulking and running into the arms of his beloved mother.
While Scrappy is getting his "wig split" (apparently this is what thugs are calling a haircut in the streets these days?), he calls on his mother for relationship advice. That's like asking Fantasia Barrino for vocabulary lessons. But hey, that's his mama so let's roll with it.
So Scrappy breaks the news to his mother that he's contemplating getting back with Erica. Momma Dee starts huffing and puffing about how Erica is a bitch for leaving him for dead after his near-death asthma attack. After Scrappy tells her not to call his babymama a bitch, Momma Dee insists that Erica is indeed a B-I-C-T-H. Wait, what?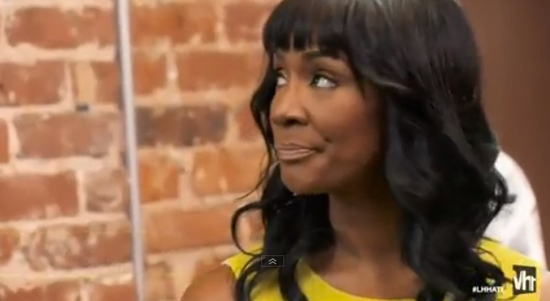 At this point, even Scrappy is thinking that his mother probably doesn't play with a full deck of cards.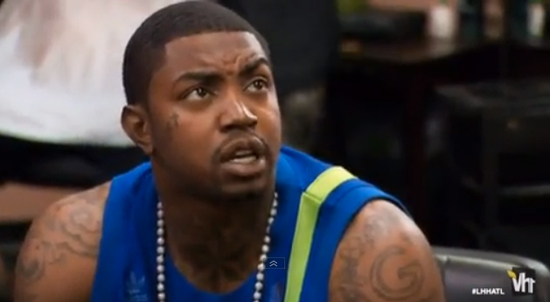 Stay in school kids.
Benzino Realizes the Truth About Karlie Redd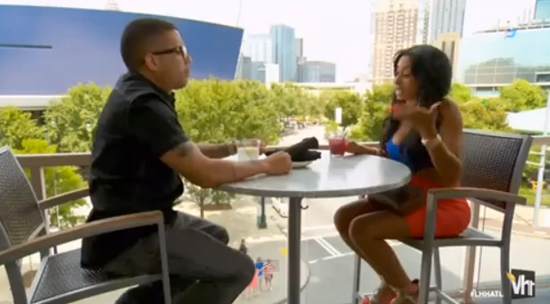 It took a while, but Benzino has finally gotten the newsflash: Karlie Redd is only using him for her career.
In episode 9, the honeymoon phase of Benzino and Karlie's relationship comes to a screeching halt as they begin to butt heads. Karlie thinks Benzino has a temper and Benzino thinks Karlie is self-absorbed, shallow and inconsiderate. Ding, ding, ding! Give that man a prize.
When Benzino confronts Karlie about the fact that all she does is talk about her career when they're together, Karlie flips the situation and tries to blame Benzino for their relationship problems. Even when he points out that she lied to him about who she would be working with in the studio, Karlie fails to pull her head out of her silicon ass. She even detachedly shrugs at the fact that her man might've been hurt by being called "cold" by her managers. But she caught feelings when Benzino pointed out that her so-called career wasn't hot either?
Call us crazy, but Benzino is the logical one in this case.
Alas, after much hand wringing and moaning, it appears that Karlie and Benzino aren't done yet. By the end of the episode, the two end on a pretty good note, vowing to fight on for their love. Score one for the pigeon with a mission.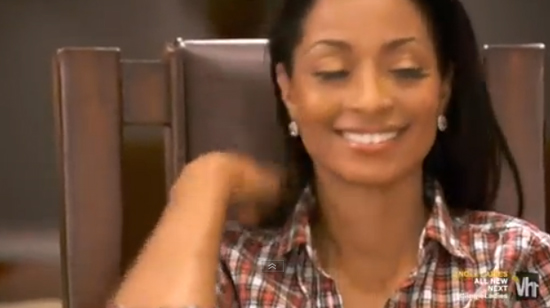 Rasheeda Chooses to Flop for Life, Runs Back to Kirk's Management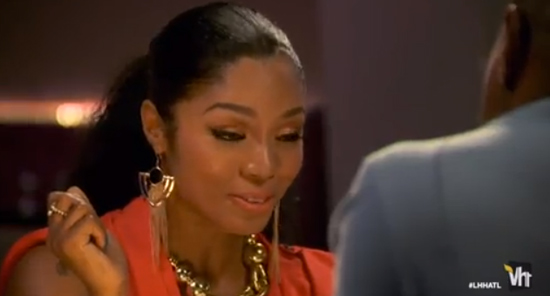 After a brief moment of clarity, Rasheeda decides she'd prefer to keep her head right in the sand, thank you very much. In a bid to appease her husband, Rasheeda opts to not move with Deb Antney's management services. Instead, she'll stick it out with Kirk and "ride to the top" with her husband. She misspoke, it's more like "ride to the flop," but yeah, good luck with that. Can Kirk even book her a pre-show slot at the BET Hip-Hop Awards?
It doesn't really matter though, because Rasheeda's living in a fool's paradise and nothing and no one is gonna make her see the light.
In order to make amends for her momentary rebellion, Rasheeda slicks her head with a tub of baby gel and takes Kirk out to dinner. She seals the deal and wins Kirk's loyalty back with naughty winks and the promise of good sex during their outing.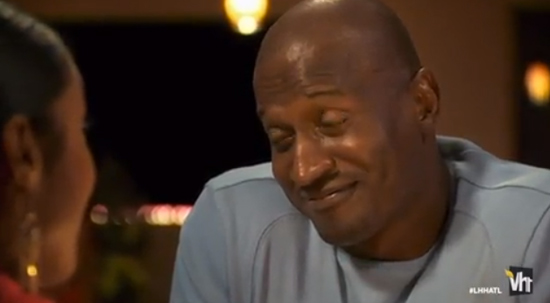 For once, Kirk is all smiles.
Be the first to receive breaking news alerts and more stories like this by subscribing to our mailing list.