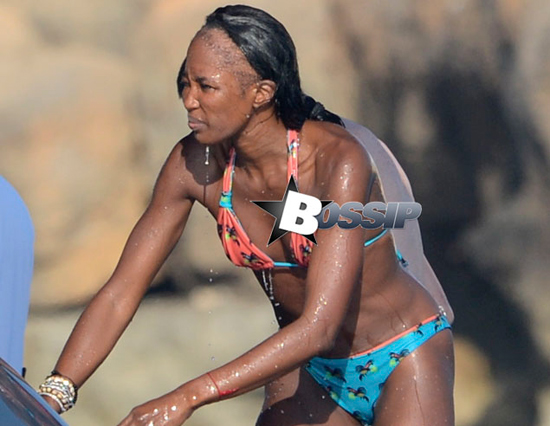 Jesus be some new growth. Naomi Campbell, one of the illest black supermodels to ever grace a catwalk, magazine spread or camera lens, is in serious need of a hair intervention.
How do you go from legendary beauty to bald-headed scallywag like that?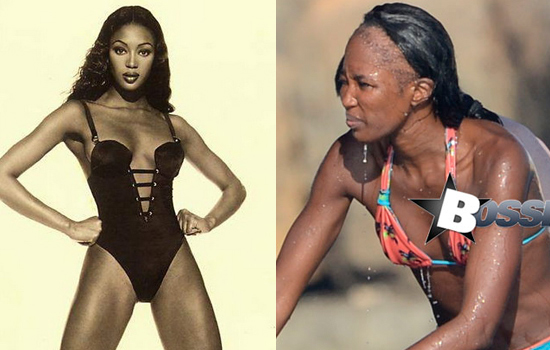 After years of weave wearing, it's clear that Naomi Campbell's hairline has borne the brunt of the punishment. Bossip snagged this shot of the supermodel while on vacation in a yacht in Ibiza.
The craziest thing about this is that she still has a hunk of weave clinging to her tortured head even though her hairline has been pushed back to infinity and beyond.
Seriously, Naomi's hairline looks like Hiroshimi and Nagasaki after the atom bomb dropped. Just a disaster.
RadarOnline.com consulted with some beauty experts to get their reactions to Naomi's follicle situation:
"It's hideous, what did she do? It looks really bad!" said shocked hair stylist Kazumi Morton from the Neil George Salon in Beverly Hills. "I have been doing hair extensions for years but I have never had a problem like this."
"If she had been doing it correctly every time and not so often it wouldn't have caused this problem," revealed Morton. "Hair needs rest, at least every three months or so, so she is doing it too much."
There is a good chance that it can grow back again, but if the trauma continues, the damage is going to become permanent and the hair won't return," said stylist Jennifer J. of Juan Juan salons, adding that cortisone therapy prescribed by a dermatologist could help the healing.
That hair stylist Jennifer J. is smokin' that good stuff if she thinks Naomi's hairline can ever be reborn.
There's no coming back from that kind of hair devastation.
It's a wrap.
Be the first to receive breaking news alerts and more stories like this by subscribing to our mailing list.