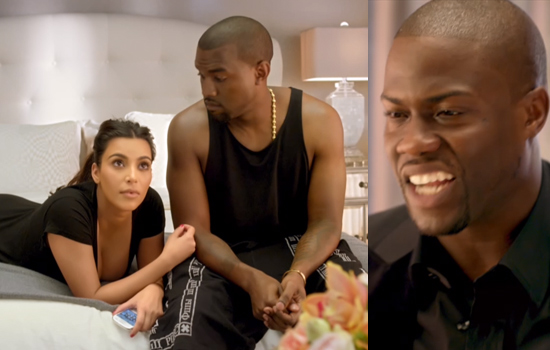 This has to be a sign of good things to come.
Kanye West and Kim Kardashian, one of the most buzzed about couples in Hip-Hop right now, aside from Jay-Z and Beyonce, made a cameo appearance in a promo for MTV's 2012 Video Music Awards, alongside host Kevin Hart.
Prior to hooking up with Kim, Kanye had pretty much gone into hiding and media seclusion, vowing to never sit in the audience of an awards show again.
Well, that changed earlier this year at the BET Awards when Kanye and Kim sat front row with Jay and Bey. And if Ye's cooperation with MTV for this VMAs promo is anything to go by, we can expect to see Kim and Kanye front row and center again at the MTV VMAs as well.
MTV had just better make sure they do two things: 1.) Equip Kanye's seat with a seat belt that producers can control via remote, and 2.) Seat Kim and Kanye far, far away from cry baby Taylor Swift.
But anyway, back to the promo.
The 30-second bit features Kevin Hart getting ready for his VMA night out. He then calls out to Kim and Kanye to coordinate outfits so that they can all match.
The two love birds are relaxing on the bed, completely clueless as to what Kevin is talking about.
Then, Kevin excitedly proposes the trio come up with a name, so he proposes KevYeKim, YeKevKim or perhaps…KKK! Yeah, that'll do.
Hilariously, upon hearing KKK, Kevin asks Kim if she has a white hoodie, to which Kanye turns and asks, "Do you?"
Kanye and Kim are playing out the minefields of interracial dating for our entertainment. Gotta love it!
Check out the VMAs promo starring Kevin Hart, Kim Kardashian and Kanye West below:
Be the first to receive breaking news alerts and more stories like this by subscribing to our mailing list.